While all hydroponic systems offer intriguing new ways to grow plants indoors that our farming ancestors couldn't have even dreamed about, Nutrient Film Technique hydroponics systems are the only ones that depend on a constantly flowing stream of nutrients to feed plants, with only the tips of their roots dangling down into the liquid as if just dipping their toes in.
In NFT the plant roots are suspended above a stream of continuously flowing nutrient solution that provides them with all the water, nutrients, and oxygen they need to sustain rapid, healthy plant growth.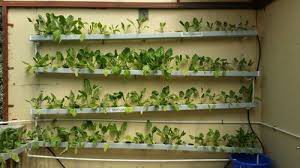 This provides the ideal situation of having a constant shallow stream of nutrient solution passing over the very tips of the roots while the upper part is left exposed to the humid environment created inside the growing chamber, which provides the roots with an abundant supply of oxygen. As previously discussed in my other blogs, the more aeration of the root zone of a plant, the faster and healthier it will grow.
NFT provides the maximum amount of oxygen to the roots, in a moist environment, while still providing the nutrients the plants need. Nutrient Film Technique is a versatile and familiar hydroponic system that includes components the same as Ebb and Flow but different in configuration. This system is excellent for smaller plants like herbs, lettuce, beans, and strawberries, to name a few.
How Does a Nutrient Film Technique Hydroponic System Work?
There are various ways to design a nutrient film technique system; however, almost all of them use a tubing system to run a very shallow nutrient solution over the tips of the roots of the plants. The bare roots of the plants will absorb the nutrients in the solutions when they come into contact with the water and utilize the air space to absorb oxygen. It's actually better to have flat bottomed channels for these units as it gives more area for the roots to "dip their toes in" but PVC piping is cheaper and easier to come by.
The NFT system is similar to the Ebb and Flow technique in that they both use water pumps to deliver the nutrients to your plants. However, unlike the Ebb and Flow system, the NFT system is a constantly flowing one. I have noticed that some units offer timers but I would recommend against using these as the entire concept of NFT is based on continually flowing nutrients that maintain the moist atmosphere in the closed system for optimal root growth.
Sloping Channels
In Nutrient Film Technique hydroponics, the chamber that the roots grow in takes the form of a tube-like (or flat bottomed) channel that's set at a slight incline so the nutrient solution will flow through it. Often, multiple, short run channels will be stacked, one above the other in an A-Frame type of setting with the nutrients of the top channel flowing into the next lower one and down and down into each channel and then finally back into the reservoir. I don't recommend long channels as the plants at the beginning of the channel tend to get more nutrients than those at the end. Plus, who has the space for 30′ long channels in their homes?
The plants are put in holes in the top of the growing channel in net pots with hydroton in them, so the roots are suspended above the nutrient solution inside the chamber while the crown extends above. Since the water is pumped up from the reservoir into the top of the highest channel and then flows down throughout the system before draining back into the reservoir, NFT is a closed system that recycles the nutrient solution, allowing you to conserve water and nutrients.
NFT and Aquaponics?
NFT can also be combined with Aquaponics.  Simply swap out the reservoir and replace with a fish tank!  Follow the instructions in my Aquaponics blog for size of tank and type of fish.
DIY NFT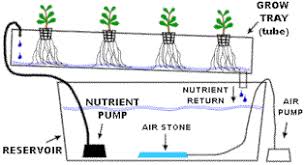 What you need to build a nutrient film technique system (NFT)
A reservoir to contain the nutrient solution
Nutrient pump
Air pump
Air stone(s)
Tubes to distribute water from the nutrient pump to the NFT growing tubes
Channel for the plants to grow in
Net pots to contain plants and growing media to start seedlings in
Return system (tubing, channel) to guide the used nutrient solution back to the reservoir
Some NFT growers omit the air pumps and airstones and just rely on the moving water to provide enough aeration for the roots but I prefer to give the maximum amount of oxygen to the nutrient solution as possible. The pump and airstone can be purchased very inexpensively in any pet store and will ensure optimal growth.
In the NFT system, there are 2 main components: the grow channel and the reservoir that contains water and nutrients. In the grow channel, there are net pots that contain the growing media (rockwool and hydroton) to hold the plants and allow their roots to dangle down into the channels. The grow channels must be sloped at a ratio of 1:30 or 1:40 to keep the water moving and not pooling. The reservoir size depends on the number of plants that you want to grow. If you want to grow a system of 40-50 plants, you need a reservoir with a minimum 5-gallon capacity.
Here is an excellent video showing this setup. The gentleman is setting up a single layer NFT system but you can see in the background a vertical, multi-channel NFT system. I believe in using vertical spaces to give the maximum amount of produce per square foot.
Pros and Cons of the NFT System
PROS:
Low water and nutrient consumption
Environmentally friendly – minimize the risk of contaminating localized groundwater
Relatively easy to disinfect roots and hardware in comparison with other system types
Plant roots can maintain a uniform PH and conductivity thanks to regular feeding (and associated flushing) that prevents localized salt build-up
CONS:
If the flow of nutrient solution stops (like due to a power outage), the roots will dry out and become stressed very quickly
The channels can become blocked by roots of vigorous-growing plants
Pump failure can cause the death of crops in a few hours
Not suitable to grow plants with large tap-root systems like carrots
Please note that this site is supported by affiliate marketing which means that a small portion will be paid to maintain this site from any purchases made through it. This in no way affects the price of the products on this page.
Nutrient Film Technique Kits
Complete kits are available at Amazon. Note that the larger ones requiring their own reservoir NEVER come with one so you will need to go to your local shop and buy a Rubbermaid (or whatever brand of an opaque, food-grade plastic bin with a tight-fitting lid) and drill a hole in the top to feed the tubing and wiring for the pumps in. This allows you to buy the reservoir size that you need for the number of plants you plan on growing.
4 Main Tube with 36pcs of net Cup Hydroponics System NFT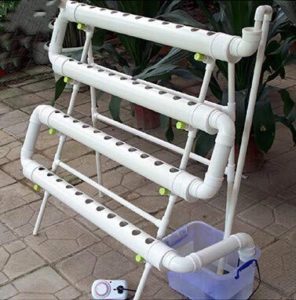 Hydroponics system-Nutrient Film Technique (NFT) NFT provides no medium support for roots. Typically, roots sit in a long sloping irrigation channel. The nutrient is introduced at the high end of the channel and allowed to flow over the roots after which it drains into a nutrient reservoir. It is then re-pumped back into the channel to repeat the watering process.
You can easily grow your favourite herbs, salad greens, strawberries or other small leafy greens in your home without any muddy mess and need for watering the plants regularly. Hydroponics is the ideal method to grow plants in urban areas. It makes a wonderful hobby that helps you relax and it is fun to watch plants grow in NFT hydroponic garden
Remarks: The water reservoir is not included with the unit. A single unit includes, 1, tube frame-1set; 2, Hose-1.5Meter; 3, pump-1pc; 4, Foam cube and net tray for starting seed-1set; 5, Mechanical timer-1pc; 6, Net cup-36pcs
Pros:
Vertical unit so it takes up less square feet for the number of plants compared to a flat unit
Comes with foam cube and net tray for starting plants
Cons:
Needs a reservoir
You will have to buy your own nutrients but that is pretty standard in a unit of this size where they don't know exactly what you will be growing.
Needs an airstone
Comes with net pots but you will still need hydroton to fill around the foam cubes
Click HERE to see this item in detail.
Darlene's Opinion: I like this unit. Since it is vertical, it takes up less space than other that will grow as many plants but are horizontal.
CropKing NFT 4-6 Hydroponic Leafy Greens Growing System
An introductory system designed to ease growers into using the nutrient film technique to grow hydroponic plants. Suitable for leafy crops such as lettuce and herbs, this system arrives with everything you need to get started, except a reservoir. Removable top covers make cleaning a breeze. All of our channels are made of a food-grade PVC to ensure that all plants are grown without the fear of imparting harmful chemicals.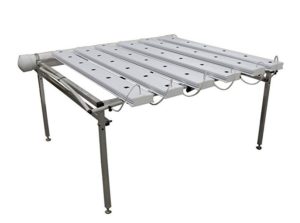 Food-grade NFT channels with 1″ square holes designed to accept 1″ rockwool cubes or other growing media
Removable top covers make cleaning simple and a total 36 plant spaces 8″ on center provides adequate space for growing your favorite leafy crops
Steel square stand provides ample support for the entire kit in any location
Pump, plumbing, stand, glue, tools, and instructions provide everything you need to get started out of the box
No reservoir is provided to keep shipping low and allow growers the freedom to use less or more water
Pros:
Flat bottomed channels which provide more root coverage
Sturdy construction and excellent design
Cons:
Needs a reservoir
You will need to buy rockwool cubes but these cost about $10 at Amazon for a sheet.
I would most definitely recommend an airstone or two with a horizontal unit like this.
Takes up more space than a vertical unit
Click HERE to see in Amazon.
Darlene's Opinion: Although I really favour vertical set-ups due to the savings in space, if you have the room for this one it is the better unit. The flat bottoms on the channels make all the difference in root growth and the fact that you can take the channels apart make them much easier to clean.
Bits and Bobs
Here are the cheap bits and bobs that may not come with some of the systems above.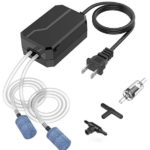 Homasy Upgraded Aquarium Air Pump, Easy to Use Quiet High Energy Saving Oxygen Pump for Fresh & Saltwater with 2 Air Outlets/Stones/Tubes, 1 Check Valve & Adjustable Air Valve & 3-Way Connector
Click HERE to see in Amazon.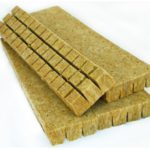 Rockwool Grow Cubes (1.5 Inches) – Growing Medium Starter Sheets (30 Per Pack)
Click HERE to see in Amazon.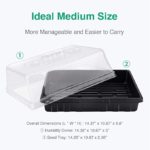 3-Set Strong Plant Growing Trays with Humidity Domes for Seed Starting, Germination, and Seedling Propagation, Holds 144 Cells in Total
Click HERE to see in Amazon.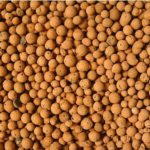 Hydroton 10L Original Clay Pebbles
Click HERE to see in Amazon.
Conclusion – Nutrient Film Technique Hydroponic Systems
Nutrient Film Technique systems are easy to care for or to build yourself and give optimal growing conditions for your smaller plants. If you wish to use fish tanks instead of reservoirs, they can even be used as aquaponic units! They are versatile and easy to look after. When you consider the cost of food at the supermarket and the amount of energy it takes to ship it there, growing food in your own home is both practical, more delicious and rewarding while reducing our carbon imprint on the planet.
Please feel free to comment and/or ask any questions below! Also, share this with any friends that you think might like it and follow for upcoming posts. I would love to hear from you!.
Related Posts
5 (8) Did you hear the story of a farmer who started growing strawberries? Yes? But, do you know he…

0 (0) Are "Organic" nutrients really better for your system or for your customers? Find out in this video from…
Please follow and like us: