TopoLite Grow Tent Room Kit Review
This is a Review of the TopoLite Grow Tent Room Complete Kit Hydroponic Growing System comes complete with an LED 300W/600W/800W/1200W Grow Light and 4″/6″ Carbon Filter Combo and Multiple Size Dark Room (LED300W+24″X24″X48″+4″ Filter Combo).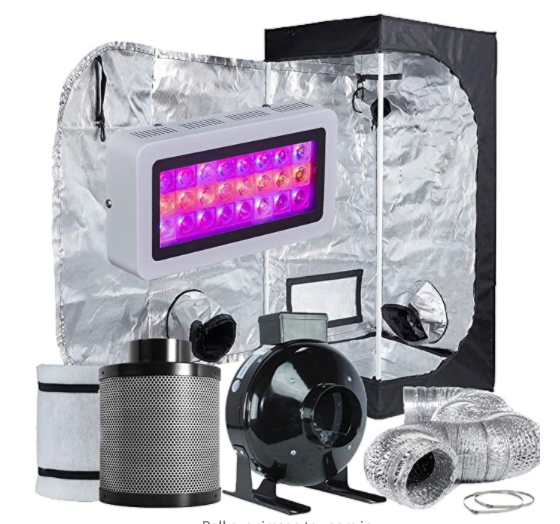 This kit provides maximum flexibility in light wattage, tent size, and other accessories so that you get exactly what you want.  Here is a basic kit:
LED 300W grow light + 4″ filter ventilation kit + 24″x24″x48″ dark room

Featuring a user friendly "Full Spectrum" design, you can easily grow your plants in any growth cycle required like germination, seedling, veg, flower

Use coal based activated carbon environmentally friendly materials and Carbon Layer Thickness: 1.5 inches

Durable: Heavy duty 600D lightproof oxford cloth and diameter 16MM white paint coated metal rods and Large heavy duty Zippers

Best Heat Dissipation for the Best Stability and Longest Lifetime
TopoLite Grow Tent Room Kit Customer Reviews
Here are what the actual customers had to say about this kit:
First Customer Review
"Great starter tent, able to grow to large plants inside, never set up the fan or filter the fan is very loud and the structure doesn't seem sturdy enough to hold the filter."
Second Customer Review
"The light is great and the tent is very well constructed. I would definitely buy another tent again, but maybe without the bells and whistles."
Third Customer Review
"Smaller than I expected, the instructions were absolutely atrocious. You'll need to get on YouTube and use some of your imagination. The duct work does not fit properly to the fan or the filter so best to have some duct tape or foil tape ready. The rods don't fit snug and are very lightweight, so I am not sure how it's going to holdup over time. The two rods for the top are flimsy and they probably should have included more than two. I will definitely have to do some home engineering to make this work. It also doesn't come with a fan speed controller, so you'll need to buy that separately. To be honest, I don't think this will hold up very well."
Fourth Customer Review
"Over time Works. Cut the dryer vent and make it work. Hang on tight. Fantastic! Happily surprised spent as day planning the assembly and an afternoon executing, beer in hand as suggested by the manufacturer. Turned on the fan and delighted seeing my new tent sealed under a perfect air flow of negative pressure. I was skeptical to purchase a kit and this set up had  individual pieces as an option, but I simply could not beat the price when I received my package only a few days later, well ahead of the ETA and took everything out of the box. I could not believe my eyes."
At $262.67, I think that this kit is well worth the minor problems that some people had.  Just be aware that some DIY skills may be necessary. You can find the Amazon listing for this HERE.You may also enjoy my list of Best Grow Tents of 2020.
Conclusion
The Customer Reviews of the TopoLite Grow Tent Room Kit were overall quite positive.  It is a system I would purchase myself. Please like, share and subscribe (in the upper right side of the page).  It would be awesome to see what you think of this!
5 (1) Did you hear the story of a farmer…
Popular Posts
Please follow and like us: