One of the most reliable and effective hydroponic systems available to gardeners is the ebb and flow (or flood and drain) hydroponic system and going vertical just makes for more veggies in a smaller footprint. Like other hydroponic systems, ebb and flow systems aim to maximize nutrient uptake and available oxygen in the root zone. A properly operating ebb and flow hydroponic system will rival any other high-performance hydroponic system in both the speed of growth and overall yield. A closer look at the principles of an ebb and flow system will illustrate how this fairly basic hydroponic system has found a permanent place within the indoor growing community with both hobbyists and commercial growers.
Ebb and Flow Hydroponic Systems – How They Work (Both Vertical and Flat Types)
Ebb and Flow is one of the most widely recognized hydroponics systems out there. It is intermediate level in difficulty, relatively low-cost to set up, and extremely versatile.
This method allows you to easily alter your garden, adding or removing plants as you wish without affecting any of the surrounding crops. Like other methods, the basic concept is very simple–plants are placed in a tray, which is periodically filled with nutrient-rich water pumped out of a reservoir below. Gravity then returns the water to the reservoir to be reused.
This system seems complex to beginners because it involves so many different components, but they all come together quite easily and can be assembled in very little time. Once assembled, this system needs little maintenance and produces plants efficiently with very little electricity or water use.
An ebb and flow system relies on intermittent water delivery (flood) to a plant or series of plants held in an inert medium. The medium is primarily for stabilizing the plant and is not required to have any nutritional value. In a true hydroponic ebb and flow system, all nutrition is provided by the nutrient solution. The most common media used in ebb and flow systems include hydroton (clay pebbles), stone wool and rinsed gravel, but any inert medium that doesn't float will suffice. The ebb and flow system is one of the simplest hydroponic systems to set up and use, but it still takes some experience and effort to master. There are two common ebb and flow configurations used by indoor horticulturists: a tray and reservoir configuration (single pump system) or an individual module configuration (dual pump system).
Basic Components
The main two components of any ebb and flow system is the plant tray and the reservoir.
The Plant Tray
The plant tray—also called a flood tray—is a large, shallow container on a tall stand, in which you place your plants. Plant your seedlings in half-gallon perforated pots filled with a growing medium such as Perlite. The pots that your seedlings are in should be about twice as deep as the flood tray. The flood tray is pumped full of nutrient-dense water from the reservoir below, which flows up through the bottom of the pots to the roots of the plants. The water is then drained back out, allowing the roots to become completely dry and oxygenated before flooding again.
The Reservoir
The reservoir is placed directly below the flood tray's stand. It is connected to the tray via a fill tube and a drain tube. The fill tube attaches to a submersible pump with a timer, which controls the flow of water up into the flood tray. The drain tube allows gravity to pull the water back into the reservoir after flooding so that the water can be reused. You can use the same water for about a week at a time, making sure to renew the nutrients every time you change the water. The submersible pump with a timer allows for a lot of control in this type of system because you can customize the length and frequency of watering based on your gardens' needs.
Here is an excellent video, good for the "DIY Crowd" that shows exactly how it's done:
System Cleaning
Because of the constant movement of water, it is important that you thoroughly scrub, clean, and sterilize your growing medium, reservoir, pots, and plant tray in-between seasons. It is not uncommon for harmless algae to grow on these surfaces, but improper cleaning can lead to mold and insect infestations that could ruin your future harvest.
Please note that this site is supported by affiliate marketing which means that a small portion will be paid to maintain this site from any purchases made through it.  This in no way affects the price of the products on this page.
Foody Vertical Gardens
As you can imagine, growing an ebb and flow hydroponic system could take up quite a lot of room. Foody Vertical gardens have found a truly effective means of giving you all of the benefits of an ebb and flow system without using large flat spaces. This saves space and allows much more food to be grown. The unit below could easily support the vegetable needs of a family of four and takes up very little floor space.
Check these out on EBay HERE.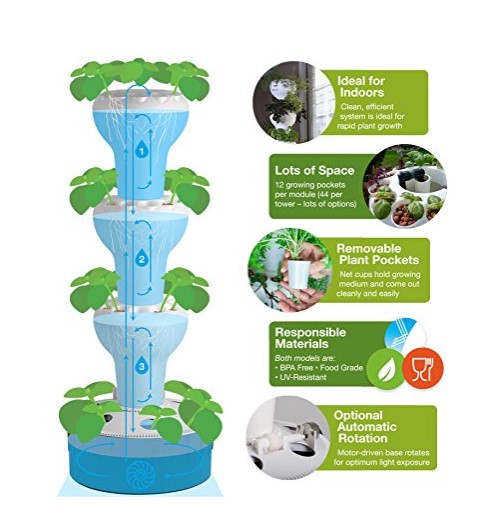 How the Foody Vertical Garden Works
Essentially this vertical hydroponic system works the same as how a toilet flushes, thereby giving it the "ebb and flow". Water is pumped from the bottom basin up to the top pod. Each Pod is connected to the pod below it by some basic PVC pipes. When the water fills up the first pod and reaches a certain level it starts to flow through the PVC pipe down to the pod below creating a suction that essentially sucks the water out of the top pod down into the pod below it.
It's the same principle as to how a toilet flushes. When you flush the toilet all it does is put more water into the bowl until it fills up enough to create a siphon that pulls the water out of the bowl and flushes it down the pipes. The cool thing about this is that the roots of the plants get soaked in water for a minute or so then once the flushing process happens, it sends the water down to the next pod. The roots are then exposed to air until it fills up again. The process keeps repeating itself. You can hear the water but it's like the sound of a small waterfall.
10 Benefits of Vertical Hydroponic Ebb and Flow Systems
1. No Weeds
Of course not! You only grow what you plant – WHAT a relief!
2. No insect pests
Plants grown indoors in any kind of hydroponic system will not attract insects unless you manage to bring them inside with you. This is another reason why cleanliness is essential. Also, use separate gardening tools when tending to your indoor hydroponic plants than with your outdoor vegetable plants so as to avoid contamination.
3. Garden All Year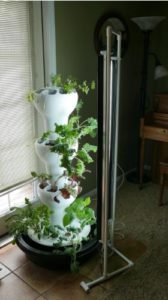 Hydroponic gardens allow you to grow indoors regardless of the season. Just make sure you put your garden near a well-lit window or use a light stand. Since this vertical garden slowly rotates, light is distributed to all plants without the need of turning it. Light stands are available in a stand containing two four-foot-long T5 fluorescent bulbs but I would also recommend supplementing with extra LED lights as shown below.  The light stand and T5 bulbs can be found on Amazon HERE. (This is temporarily unavailable on Amazon at this time.)
Additional LED lights that I would definitely recommend: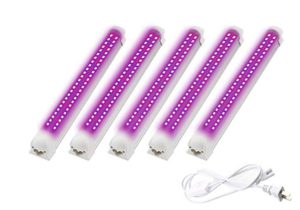 Darlene's Tip:  These can easily be mounted on the light stand for the vertical garden and will give full-spectrum lighting for MUCH better results.  These are available on Amazon HERE.
4. Educational
Hydroponic gardens are clean and "hands-on", and a great tool for the classroom or your own kids. Growing with a vertical hydroponic system is a simple and super way to learn about plants, nutrients, and lighting without worrying about the weather, pests or weeds.
5. Decorative and Attractive
Vertical gardens can be placed almost anywhere inside your home or on your deck/patio, and they are wonderfully productive, so you can count on good looking (and smelling) herbs, flowers and greens all year round.
6. Less Bending Over
Vertical gardens can be placed almost anywhere inside your home or on your deck/patio, and they are wonderfully productive, so you can count on good looking (and smelling) herbs, flowers and greens all year round.
7. Space-Saver
Most vertical towers only need 2 to 3 feet diameter of floor space. Systems like the Foody Tower can grow 40 to 66 plants in a 24″ circle of floor space: The bottom line is productivity vs space. This is where vertical gardening is set apart from any other type of gardening.
8. Move Indoors or Outdoors
Stackable vertical gardens like the Foody 8 can easily be moved in or out of the home, which is good for certain plants that thrive during the warmer months.
9. Uses Less Water and Nutrients
Believe it or not, hydroponic systems actually use much less water and fertilizers than traditional gardens for the same amount of production … you're not losing as much to evaporation and the soil. In fact, systems like the Foody Tower use just 10% of the water normally used in an outdoor garden. This is why vertical hydroponic towers are catching on in commercial greenhouses and for rooftop installations.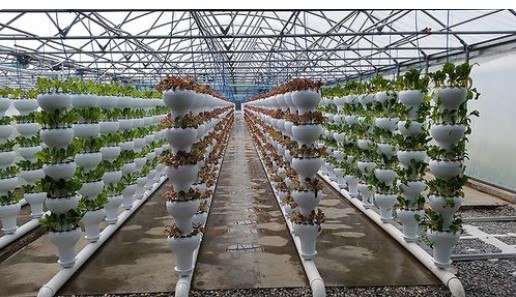 10. Less Mess
Because a hydroponic system uses no soil, you won't have to muck about in the mud and dirt.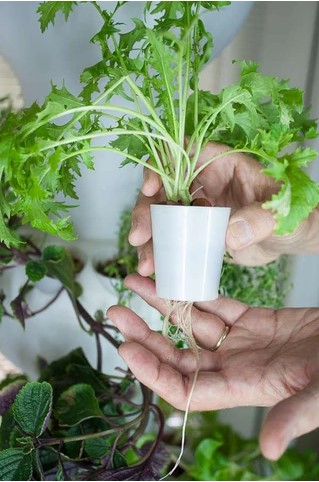 Conclusion  – Ebb and Flow Hydroponic Systems – Go Vertical!
I just love the idea of incorporating an ebb and flow hydroponic system with vertical gardening. It's a brilliant idea for all of us to grow our own fresh food all year round. As more people move from the rurals and into small urban spaces, this unit is the perfect solution for those with little space. We all know the costs to our environment of transporting food long distances to the supermarket, not to mention the degradation of quality in doing so. This system provides the perfect solution to ensure small scale gardening and the absolute freshest produce all year round!
Please join the conversation!  I would love to hear what you think of this post so leave your comments below.  Don't forget to press follow so you don't miss my up-coming blogs!
Related Posts

0 (0) Are "Organic" nutrients really better for your system or for your customers? Find out in this video from…
5 (8) Did you hear the story of a farmer who started growing strawberries? Yes? But, do you know he…
Please follow and like us: