There are many different ways of growing hydroponically but Deep Water Culture Systems (DWC) is one of the simplest and most popular methods of hydroponic gardening today. In DWC, the plants' roots literally dangle straight into the nutrient-rich water. Now, for those of you who have been continually warned about over-watering plants, this may seem a little odd. Surely permanently submerging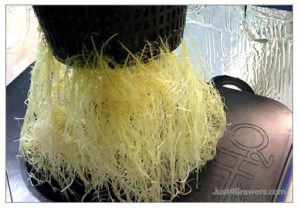 roots in water is a bad thing for all but aquatic plants, right? Well, it turns out that if you bubble enough air into the water and keep it at the right temperature, roots will thrive. Add some mineral-based nutrients and you have a powerhouse hydroponic growing method! These systems are used for large, high producing plants like tomatoes or cucumbers and are great for commercial growers.
Parts of Deep Water Culture Systems
Before we get into the nitty-gritty details, let's get a high-level overview of this type of system. In a DWC system, a plant's roots are suspended in a well-oxygenated solution composed of water and nutrients.
There are three critical parts of this solution:
Oxygen: Because the roots are submerged in water and not soil (which has gaps and holes where air resides), the water needs to be well oxygenated so the plant doesn't drown. This is accomplished with an air pump and air stone.
Water: Think of this system as if you're growing in soil and permanently watering your plants – which is one of the reasons growing hydroponically is so beneficial – you never need to 'water' again.
Nutrients: A good quality soil contains all of the micro and macronutrients that a plant needs to survive and thrive. Because we have no soil, we need to supplement the oxygen-rich water with nutrients so our plants can grow.
Why is it called Deep Water Culture?
This method is called Deep Water Culture for two reasons. One, you typically grow with a reservoir that can hold a decent amount of water. More water means more stability in your nutrient solution, which means less monitoring and maintenance for you! However, some people choose to use single, standalone systems because they are inexpensive and easy for the DIYer.
The second reason is because of how much of the root mass you submerge in the water. Other methods expose your plant's root zone to air and drench them in water just a few times a day (ebb and flow systems are a good example of this). In deep water culture, most of your plant's root system is submerged 24/7 – hence the name!
Advantages of Deep Water Culture
Reduced risk of pests – Since a DWC setup doesn't use any growing medium, there is little risk of bugs and other pests
Plants can grow larger – The lack of growing medium in a DWC allows your plants to take advantage of all the available space and nutrients to grow as large as possible.
Low-Maintenance – Once a DWC system is set up and running, it requires very little everyday maintenance. You can even leave it alone for quite a while as long as the reservoir doesn't run dry.
Watering is less difficult – A DWC system is fully automated, which means you don't need to worry about under or overwatering your plants. Once set up properly, your DWC will always supply the right amount of nutrients and oxygen to your plants.
Types of Deep Water Culture Systems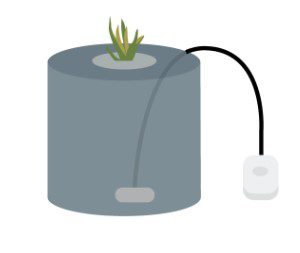 One difference of using a DWC system as compared to growing in a medium such as soil is the reservoir. In a standalone setup, plants themselves will be suspended above individual reservoirs containing the feeding solution, while the roots will stretch down where they will be fully immersed in the nutrient-rich "deep water". Since the roots should not receive any light (to prevent issues such as the growth of algae), the reservoir is normally a light-proof container. These simpler systems for single plants may consist of one reservoir, a small pump, and an air stone for one plant.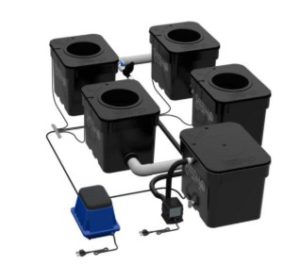 The more common and easiest type of DWC system is the Recirculating system. Recirculating DWC systems make use of one large tank that is connected to a number of individual smaller reservoirs for each plant. The feeding solution is fed from the large tank to each of the plants and is recirculated back into the tank. Some systems may just have one air pump and an air stone in the large tank, while others may have an air stone in each container for each plant. Air stones create bubbles to ensure proper gas exchange. The more air the roots get, the faster and larger the plants grow.
The Recirculating system is commonly used for large grows for those that not only want to feed their family but also sell to market gardens, stores in the off-season and restaurants.
Please note that this site is supported by affiliate marketing which means that a small portion will be paid to maintain this site from any purchases made through it. This in no way affects the price of the products on this page.
Bubble Brothers 6-Site DWC Hydroponic System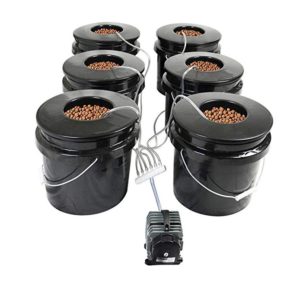 Bubble Brothers – the practical hydroponic system that delivers professional results! These deep water culture (DWC) systems are perfect whether you're a green-thumb or you're just "a little green" when it comes to hydroponics. Regarded as one of the easiest hydroponic methods, DWC self-contained systems are simple to operate, economical to maintain, and deliver all of the benefits hydroponic gardening is known for such as faster growth, bigger yields, and better flavors!
Aeration is the key to DWC performance, which is why Bubble Brothers systems include a larger commercial pump and higher quality air stones than similar systems. Bubble Brothers outperforms similar units because these components provide increased oxygenation and better diffusion that is truly needed to produce amazing plants in no time. The Bubble Brothers 6-site system accommodates six medium-sized plants and comes with high-quality clay-pebble grow medium. Complete instructions and hydro tips included!
The Bubble Brothers complete 6-site DWC hydroponic system by HTGSupply includes (6) Space-saving 3.5-gallon low-profile buckets, (6) 6″ net-pot lids, (1) 951-gph high-power commercial air pump with 6-way divider, (6) larger 2″ premium air stones, (1) 50′ roll 1/4″ air tubing. It comes complete with a 10-liter bag of high-quality clay pebble grow medium and electrical (air pump): 41 watts, .42 amps @ 120v. Assembled buckets measure: 10-7/8″ Tall x 12″ Wide (each); Assembly instructions included.
Pros:
Inexpensive
Easy to use
Great customer service
Cons:
When plants are small you will have to water them from the top as the roots won't reach the water in the reservoir
Many complained that the pump is LOUD. This can easily be fixed by replacing it with one from your local pet store.
No way to check the water level without moving the plant and looking inside.
Pots are a little small (only 3.5 gallon) so it will limit the size of plants you can grow in them.
Darlene's Opinion: This is a good starter system for the price.
Click HERE to view in Amazon.
Deep Water Culture (DWC) Hydroponic Bubbler Bucket Kit by PowerGrow ® Systems (4) 5 Gallon – 10″ Buckets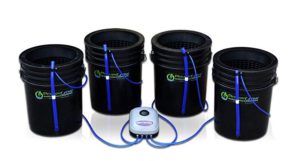 Looking for an inexpensive and easy way to grow hydroponically? The PowerGrow ® Systems Deep Water Culture System is the answer! Super easy to use, the DWC system allows you to get up and growing in no time, with very little effort. The PowerGrow Deep Water Culture System includes everything you need for a complete system. In a Deep Water Culture system, the plant roots are immersed in an oxygen infused and nutrient-rich water reservoir (a 5 gallon FDA approved bucket). The oxygen-rich solution helps build healthy root systems faster and more efficiently than soil which results in superior plant growth and production. The PowerGrow Deep Water Culture System includes the following: (4) 5 Gallon FDA Approved Buckets, (4) 10″ Net Pot Bucket Lids, high power Oxygen/Air Pump, Air Tubing, (4) Oxygen dispersing Air Stones, Blue Water Level Indicator + Drain, Complete Instructions, 1 Year Warranty. The PowerGrow Deep Water kits are easily expandable as well so you garden limits are virtually endless. With the PowerGrow brand, you also get the quality assurance of a 1-year Manufacturers USA warranty.
Easy to use complete Deep Water Culture Hydroponic System! 4 Growing Sites
Deep Water Kit Includes Air pump, airlines, air stones, 10″ basket lids, (4) 5 gallon FDA buckets + 1 Year USA Warranty
Each Deep Water Culture bucket includes a water level indicator and drain so water changes are easy
Easily grow plants to maturity with the PowerGrow Deep Water Culture Kit – Made in the USA
Lets you grow 4 different plants to maturity in one system
Pros:
Larger buckets will grow larger plants
Air stones in each bucket will give greatly improved aeration to roots
Water level indicator and drain will make water changes easy
Cons:
Does not come with media so you will have to buy your own hydroton but that is pretty cheap
When plants are small you will have to water them from the top as the roots won't reach the water in the reservoir
Darlene's Opinion: This is worth the slightly higher cost of the previous system due to the improvements noted under the "cons" section.
Click HERE to see on Amazon
General Hydroponics GH4720 Farm Controller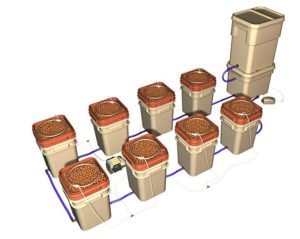 The WaterFarm 8-pack is eight WaterFarm module units connected to one General Hydroponics Controller: an integrated 13-gallon reservoir and an 8-gallon controller unit. The Controller will keep each unit topped off with the correct level of nutrients for low maintenance. The nutrient solution is circulated by GH's Dual Diaphragm Air Pump. Includes all the necessary hardware, supplies and General Hydroponics Flora Series nutrients. The grower can arrange the WaterFarm units in a design that is suitable for any environment. Pack them tight or space them out for your growing situation. The WaterFarm 8-Pack is the system for big growers. It can be expanded to a maximum of 12 grow sites for one controller.
Pros:
Top feeding so no hand-feeding needed
Large tank so refilling of individual pots unnecessary
Scalable to larger or smaller size (more or less pots)
Cons:
Complaints of holes not drilled and pieces missing – irregular quality control
Click HERE to find out more on Amazon
Darlene's Opinion: I like this system but it's a shame that most customers found little things that needed fixing as mentioned in the cons area. Not difficult if you can DIY some things. This would be excellent for larger grows for the market.
Hydroponic Recirculating Deep Water Culture System with Root Spa. (4) 5 Gallon Buckets + 1 Control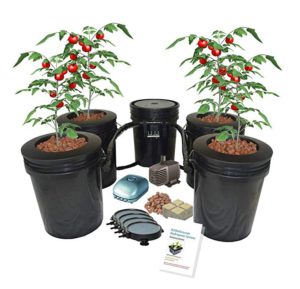 This recirculating system includes (4) 5-gallon modules with 6″ Net Pots (1) 5-gallon Control Module with lid, 15L 4-port air pump (Qty:1), 4″ round air stones (Qty:4), airline and water line harness (Qty:1), module return lines, 400 gph water pump (Qty:1), starter kit of hydro corn and rockwool growing mediums, Nutrient Start-Up kit, and Instructions. It requires no tools and only a small amount of vegetable oil to assemble. This is a Recirculating Deep Water Culture system with a root spa in each module. It circulates the nutrient-rich water throughout the system drawing from the bottom of the modules and feeding through the top of the modules. This ensures nutrients are constantly maintained at the optimum levels and never get a chance to settle on the bottom.
Oxygenation ~ Each module provides plants with highly oxygenated and nutrient-enriched water that circulates below the plants for the best results and minimal effort.
"Blackout" modules with custom lid ~ Light entering the grow module encourages algae growth so this system is designed to keep light out of the modules.
Deep Water Culture ~ The roots are suspended in the reservoir beneath the net pot(s). The roots bathe in an oxygenated, nutrient-rich solution throughout the entire grow cycle.; which increases yield and reduces grow time.
RECIRCULATING ~ Oxygenated, nutrient-rich water is constantly circulated throughout the system ensuring that the heavy nutrients do not settle on the bottom. The solution is drawn from the bottom of each module to the control module where it is then recirculated to the top of each module. The roots are suspended in the reservoir beneath the net pot and are constantly watered with and bathe in an oxygenated, nutrient-rich solution throughout the entire grow cycle.
Garden hose drain adapter ~ An exclusive feature not found on any other system. The H2OToGro system uses the existing water pump to flush the reservoir through the included garden hose fitting. Simply connect the garden hose, swap the reservoir lines and plug in the pump. Perfect for systems in confined areas, the ability to connect a common garden hose makes reservoir changes simple and convenient.
Pros:
Large pots for large plants
Waters from the top and recirculates
Easy to drain and clean
Cons:
I am going to quote from a review in Amazon that seems to cover it all: "Works okay but I've had to make several modifications to make it work well. The return flow does get plugged up as the roots grow so this will be the area for the first mod you will want to make (Hint: what is at the bottom of a planter that this is obviously missing?). Oh, wait, the lid won't actually stay on… forgot – that's the first mod (you do want the lid to stay on). Also, after you have flushed the system a couple of times you will begin to realize the value of a simple two-way valve. And finally, a pair of balancing valves so that the two back grow tanks get top flow without forcing too much water into the first two (and splashing out of the tank). And now, you will have a good top flow recirculating system. (The return flow and drain placement would be the only other thing to address to enable a more complete drain and flush of the system (about an inch remains at the bottom of the tanks).:
Darlene's Opinion: Not a bad unit as long as you are familiar enough with such a system to be able to make the needed modifications. Frankly, I think that the General Hydroponics unit above would be better.
Click HERE to see on Amazon.
Conclusion – Deep Water Culture
Deep Water culture is the way to go for ease of use and growing large plants for the market, restaurant or commercial purposes. A small unit would be fine for the family's tomatoes and cucumber needs, however. I wanted to show you these units to get you thinking of larger-scale production. There is no reason why a basement or attic space couldn't make you some money all year round!
Please leave your comments below and get the conversation going!  Also, be sure to follow for upcoming articles.
Please follow and like us: