As most of my regular readers may have noticed (and I've seen questions about this!) that most all hydroponic systems are for growing vegetables for their tops, like herbs, salad greens, tomatoes, etc. So what if you want to grow potatoes, carrots, onions or other root vegetables? I have now researched this and come up with solutions on how to grow root vegetables indoors.
How to Grow Root Vegetables Indoors with Soil – Potatoes
This basically comes down to whether you wish to use soil or hydroponics. In this case, I am thinking that the hydroponic option is actually the more difficult of the two although it does have its advantages.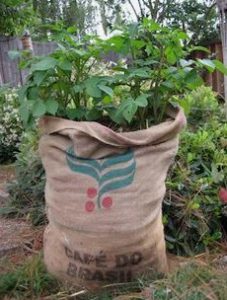 Potatoes need a lot of space so for these you would want a 5 – 10-gallon container. You will be able to get a far greater yield than with a smaller container. Chit your potatoes by leaving them in natural light to sprout. It is best to use seed potatoes purchased from a garden shop as store-bought potatoes often have insecticides and such sprayed on them. Having said that, I would still probably try to grow some of those potatoes that end up growing in the bottom of the bag from the store. You can cut the potatoes up – just make sure there is at least one growing eye and a good size chunk of potato on each piece. Sprouting needs to have happened for the potato to successfully produce more potatoes.
What to Grow Them In?
You can use any kind of tall plastic, food-grade container or even bags, such as old fertilizer bags. Use good quality potting soil. Put a few inches of soil in the bottom of your container and place your potatoes with the sprouting eyes turned upwards. Cover with a few inches of soil and water. This should leave plenty of your container above the potatoes with nothing in it. This is what we want. If you are using a fertilizer bag, just roll down the edges to make it more manageable at this stage.
Watering and Maintenance
When watering, you want the soil moist but with no pooling of water at the bottom of the container as this will cause the potatoes to rot. Once you get 4-5 inches of top growth, start adding more soil so that at any time, there is only a few inches of green growth showing at the top. Keep doing this as the plants grow until your container or bag is full. The potatoes will grow from the stem of the potatoes that have grown up through the soil and you will have a bountiful harvest. Water about every third day, ensuring that you water enough to dampen the soil all the way to the bottom. The soil should be moist but not wet.
Planting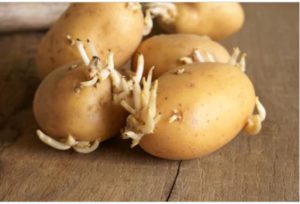 The indoor potato planting process is simple, but your potatoes will need some maintenance throughout their growth cycle to ensure a high yield and healthy spuds. First, find a good, natural light source in your home to ensure about 14 hours of light per day, or use LED lights if growing all year round. Potatoes need to be kept at room temperature. During the winter, this temperature might drop a bit so you will want to keep them near a heat source but not overheated.
Once your plants have gained full maturity, they will begin to turn yellow and are usually ready for harvesting. At this point, stop watering them so that the potatoes harden off and develop a decent skin on them. Wait until the plants die off completely to ensure the maximum growth of the spuds. Double-check a potato or two for maturity by rubbing your thumb gently against the skin. If it stays in place, it's ready to harvest.
How to Grow Root Vegetables Indoors with Soil – Other Veggies
You still want tall buckets or bags but you probably only need 3-gallon size, depending on what you are growing. Daikon can grow 16-18″ whereas carrots, onions, radishes, etc are shorter. Choose your container or bag to suit the length of the vegetable you plan on growing. Fill the container with potting soil, sow your seed or bulbs as per normal and water.
Growing Root Vegetables Hydroponically
The best hydroponic system for potatoes is one that uses a supportive medium for the plants to grow in and does not require that the potatoes be submerged or kept continually wet. A very simple hydroponic system for growing potatoes can be made easily from a plastic container such as a storage bin or large bucket with 1/4-inch-diameter holes drilled in its sides about 2 inches up from its bottom and spaced a few inches apart all the way around the container. The bin must be at least 2 feet deep and filled with perlite.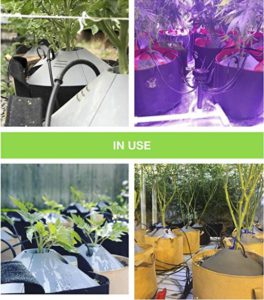 Follow the same instructions as if planting in soil with planting potatoes near the bottom and gradually filling the container only this tine use perlite rather than soil. Potato plants need access to plenty of water, but they can't be kept overly wet or they will rot before they have a chance to grow. Fill the container with water until the perlite or other medium is soaked and water begins to run out the holes. Having a plastic tray under the container will catch any runoff.
Watering
Use ordinary tap water to water the seed potatoes every three to five days, preventing the perlite from drying out. When they have sprouted, continue watering as before but alternate between plain water and a fertilizer mixture made by adding 1 teaspoon of 20-20-20, water-soluble fertilizer that includes micronutrients to 1 gallon of water. When the plants' vines are roughly 18 inches in height, switch to a fertilizer that has more potassium than other elements, such as a 10-10-20 blend, which will boost the development of the tubers. Harvest mature tubers about three weeks after the vines die, and/or harvest small, tender tubers as soon as 70 days after planting. This harvest time should be about a month earlier than for those veggies grown in soil.
Other root vegetables can be sown directly into perlite as well such as onions or garlic but if you are dealing with tiny seeds, you may want to start them in rockwool cubes first so that they don't wash down to the bottom of the container and get lost.
Please note that this site is supported by affiliate marketing which means that a small portion will be paid to maintain this site from any purchases made through it. This in no way affects the price of the products on this page.
TQQFUN 2 Pack 7 Gallon Smart Potato Bags Velcro Window Vegetable Bags, Double Layer Premium Breathable Nonwoven Cloth for Potato/Aeration Fabric Pots with Handles(Gray)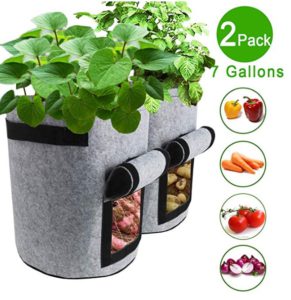 Unique Design: The TQQFUN each Potato bag with a visualization window.
Easy to Move: Has a firm handle that allows you to move it easily. TQQFUN potato bags are perfect for patios, small gardens, balconies, sunrooms, and any indoor/outdoor space. They can be used for potatoes, onions, taro, radish, carrots, and other vegetables.
Durable material and Reusable: Made of breathable fabric, which is environmentally friendly. Lightweight and rugged, reusable for years. It can be folded and stored during idle. It also is used as a storage bag, such as put dirty clothes, pack the tools in, etc.
Healthy: Breathable, flexible fabric.
100% Customer Satisfaction Guarantee.
Click HERE to view on Amazon.
Darlene's Opinion: These are inexpensive and could be used with either soil or perlite. The breathable fabric lets the maximum amount of air in as possible for healthy roots.
WINNER OUTFITTERS 6-Pack 10 Gallon Grow Bags/Aeration Fabric Pots with Handles
Material: Made with high-quality nonwoven fabric, Built-in handles for easy movement
Structure: Prevents roots circling and air-prunes plant's root structure, so it's better than Plastic Containers
Warmer & Cooler: Keeps plant warmer in winter and cooler in the summer
Package: 6-pack 10 gallon grow bags
Their guarantee: "If you don't like our grow bags, or whatever, we'll instantly refund your money and you can keep the grow bags, no questions asked. It's our promise and we don't lie."
Click HERE to view on Amazon.
Darlene's Opinion: These are as good as the ones above and can also be used with soil or perlite. The felt fabric prevents root circling and they are larger.
Now, for those of you who do not want to hand water I am including the following:
HydroLock All in One Professional Grow Kit – Includes Drip Irrigation Emitters, Pump, Hydrolock Water Distributing Caps, Fittings, Bubbler Manifold, Tubing. Indoor & Outdoor Use – USA Made (12-Plant)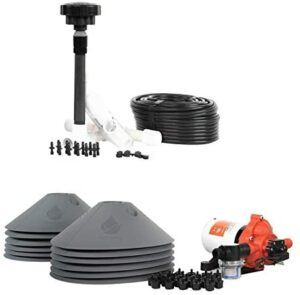 Pump Easily Connects to 1/2 PVC or Garden hose! (connections included) Will work with reservoir!

Conserve water and reduce energy consumption by lowering indoor humidity.

HydroLock Covered Irrigation 12 Plant kit contains everything you need (except long PVC and reservoir) to turn any garden into an automated watering powerhouse!

Combine this system with a timer and pressure guage to completly automate and monitor your feedings.
Click HERE to see on Amazon.
Darlene's Opinion: This is your drip irrigation in case you don't want to be locked into trying to remember to water your plants. This will fully automate your system. I would highly recommend buying a timer so that your veggies will never be too dry or too wet. You will also need to buy a reservoir with this.  The usual opaque Rubbermaid (or other brands) container with a hole drilled in the top will work just fine.
Conclusion – How to Grow Root Vegetables Indoors
Now you can grow all of your vegetables all year round. The bags from Amazon could be used for large plants like tomatoes as well as small trees. Check out my other blogs and there will be nothing you can't grow right in the comfort of your own home! Next week, watch for a series of blogs on lighting! As always, please feel do comment on this blog – it gives me new ideas on what to write about! Got a friend that might be interested in this? Please share widely!
Related Posts

0 (0) Are "Organic" nutrients really better for your system or for your customers? Find out in this video from…
5 (8) Did you hear the story of a farmer who started growing strawberries? Yes? But, do you know he…
Please follow and like us: