This site is normally dedicated to the best systems for growing the maximum amount of food possible indoors.  However, I have been finding some really cool items in Amazon the would make great ideas for  Christmas presents for the green thumb in your life.  These items are still very good but were not included in my previous articles and many have more of a home decor feel.  I sure hope you like them!
Great Christmas Ideas for the Green Thumb
All of the ideas I have presented are under $100 and most are on sale for Black Friday!  This is the weekend to take advantage of these unique items and add some beautiful yet useful items to your home and indoor growing efforts!
Please note that this site is supported by affiliate marketing which means that a small portion will be paid to maintain this site from any purchases made through it. This in no way affects the price of the products on this page.
Back to the Roots Organic Mushroom Farm Grow Kit
Homegrown Gourmet flavor: learn how to grow delicious, edible, Gourmet, organic oyster mushrooms right out of the box in just 10 days! Just add water to this mushroom growing kit to grow fresh mushrooms; there are no separate Mushroom spores or mushroom seeds needed!
Growing your own Gourmet mushrooms has never been easier. This kit has organic plant-based soil and Oyster Mushroom spores to get you harvesting in just 10 days.
Back to our roots: what began as curiosity about urban farming turned into a passion to reconnect families to food through these indoor gardening kits.
100% money-back guarantee.
Click HERE to read more
LeGrow Self-Watering Indoor Planter
WHAT IS THE LEGROW SMART GARDEN?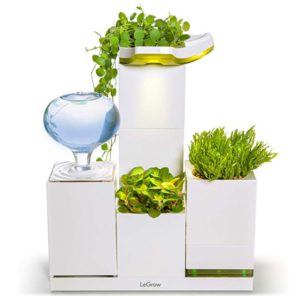 The LeGrow Smart Garden is a complete indoor garden ecosystem. The garden itself is a modular setup where each individual standing planters pot acts as a building block. This allows you to stack, expand, and build your garden into limitless creations. The ecosystem includes advanced planter pots, LED grow lamps, humidifiers, and a unique Power Pot with 4 USB charging ports. Each Smart Garden set comes with a different selection of features and you can get the Power Pots as a stand-alone.
HOW DOES IT WORK?
Clean and Simple Planter garden pots can be messy! Most come with multiple drainage holes on the bottom of the pot to allow water to escape. Here, they've integrated an internal water reservoir into the design. This not only captures the excess water, preventing it from spilling out, but also means you can water less frequently. This design allows for the pots to be placed directly on your desk or furniture with less risk of leakage or soil escaping.
Modular Assembly The modular shape of the plant pots allows for limitless creativity. Make your own unique plant arrangements. Stack them high, spread them out, add additional humidifiers or lamps, and grow a large variety of plants and flowers.
LED Grow Lamp Their two-bulb LED grow lamp provides nourishing light for a variety of plants. It can be set in 6-hour increments so that your plants get the light they need to flourish. Generating up to 50,000 Lux and height-adjustable, our lamp is perfect for winter growing.
360° Humidifier Most plants die due to a lack of moisture in the air. This is particularly problematic with indoor environments when heating and air conditioning are present. Our humidifier distributes moisture 360° providing the necessary water for plant growth. In addition, humidifiers have been shown to help reduce eyestrain, soften skin, and have many other health benefits.
Click HERE to read more
Educational Insights Now You See It, Now You Don't—See-Through Compost Container
Kids can easily view the entire decomposition process with 3 clear, separate, aerated compartments!
Make side-by-side comparisons between different materials in each of the compartments.
The included thermometer shows temperature changes during the decomposition process.
It teaches kids about decomposition, composting, life cycles, and environmental science. The guide includes composting facts and science project ideas.
Includes 12″ x 4″ x 8″ clear plastic box with faux grass lid; 3 clear-view, aerated compartments with magnification spots; 3 thermometers; and guide.
NOTE that this unit will not keep up with a family's composting needs but if you do need one for this, see my article on Composting with Worms for family composters.
ALSO NOTE that this unit does not come with worm bedding or worms – these will have to be purchased separately.  (See article noted above for these.or just buy from Amazon)
Click HERE to read more
More Great Ideas for the Green Thumb – LED Lights for Indoor Plants
Double LED Grow Light for Indoor Plants
Best Sunlike Full Spectrum: 45W grow light with 88 pcs led chips with high quality(50,000 hours lifetime), the wave of the light from 380nm to 800nm. Suitable for both home & office. A great option for indoor garden enthusiasts for high quality and good harvest.
Timer & Auto On/off Function: Comes with 3 timer setting options which allow up to 3,6,or12 hours according to plant needs. It also has two-way memory timing function, set up once and it will turn on and off automatically EVERY DAY!
High-Efficiency: Make your plants grow faster and healthier, effectively promote photosynthesis, increases growth rate, and satisfies plant germination, growth, flowering, and results in the entire process of light energy needs!
5 Brightness & 3 Switch Modes: 5 adjustable brightness to suit varied stages of plant growth, and 3 Switch Modes A light on, B light on and Both lights on.360-degree flexible gooseneck with a clip that can easily adjust the angle and distance, which enlarges the illumination area and provided more efficient lighting for more plants.
Safety & Best Service: FCC, CE, ROHS PSE certified. They offer a 30-day refund or replacement if you are not satisfied with an item you received. They have a 24-hour professional service center and promise a 12-month warranty.
Click HERE to read more
Tri-Head LED Grow Light
[AUTO TURN ON/OFF & TIMING FUNCTION]: Ankace Grow Light is the latest in plant growth lamps with an automatic timing function and a USB plug (comes with AC adapter). Not only can you set it up for lighting every 3 hours, 6 hours or 12 hours, but you can also adjust the brightness of the light and the distance between the light and plants, according to plant needs. The circular-memory timer function works automatically.
[EFFICIENT RED/BLUE LED COMBINATION]: This LED lamp has grow lights made up of 60 efficient growing LEDs (39 red and 21 blue). It meets the conditions of plant growth without sunlight. The red light promotes photosynthesis, germination, bloom, and fruit-bearing. The blue light ensures the plants take in more energy through chlorophyll synthesis to help in germination. This professional grow lamp stimulates plant growth by multi-directional illumination.
[5 DIMMABLE MODES & 3 SWITCH MODES]: Ankace's grow lamps provide 5 dimmable modes and 3 spectrum modes to suit varied stages of plant growth. It adjusts to levels of 20%, 40%, 60%, 80%, and 100% light intensity and has 3 spectral modes (red, blue, and mixed light) to meet different stages of plant-growing needs.
[VISIBLE QUALITY AND ADJUSTABLE]: The lamp's LED grow lights have a USB connector which makes it convenient to connect in your office or home to USB or AC power plug (includes adapter). The 3-head light has a 360-degree flexible gooseneck made from quality tubing to keep a fixed position. The metal clamp allows the lamp to be placed anywhere in your home or office.
[WIDELY USED AND SERVICE GUARANTEE]: This grow lamp is suitable for indoor potted plants or an indoor garden. It accelerates the growth of various types of plants in every stage of development. All the products they sell can be exchanged or refunded within six months of purchase.
Click HERE to read more
Floor Grow Lights with Stand
2019 Free Standing Grow Light — The adjustable tripod stand is extendable from 15 inches to 47 inches. Just lock it at the desired length for your preferred use.  You can stand it on the floor adjust the desired angle according to the needs of the plant.
3 Lighting Modes & 10-level Brightness Adjustable — 1–Red+ Blue Light; 2–Warm Yellow Light(Sunlike Full Spectrum); 3–Red+ Blue+Yellow(Full Spectrum). Easily turn on/off/change modes/adjust brightness by the controller.
Upgraded Auto On/Off Timer — This fluorescent light comes with a controller that is easy to understand and that allows you to set a timer: 3H(Blue)/9H(Green)/12H(Red), so you will sleep or leave your plants knowing that the light will auto turn off.  NO NEED FOR MANUAL OPERATION!
Easy to Install — Just within two minutes! Place the plant light on the tripod and tighten the screws until they are fully seated.
Widely Used — Every light bulb equipped with 22 LEDs (6 Red/6 Blue/10 Warm Yellow LEDs). Widely apply to family balcony seeding/breeding, gardening, flower show, potted plants, especially tall and large plants.
Click HERE to read more
Great Christmas Planter Ideas for the Green Thumb!
Go Grow Hydroponic Gardening Planter
THE PERFECT HYDROPONIC SYSTEM – These passive hydroponic planters make gardening fast, easy and at your fingertips! You can now garden indoors, outdoors, on your patio or deck and in an urban apartment without dirt and without the hassle of constant monitoring, pumps, and filters!
EASY TO USE – No measuring, no testing, no weeding, no watering, no pesticides, no herbicides, no GMOs just healthy plants fed by a perfect, pre-measured balance of nutrients! This Grow Kit includes everything you need to get started.
STYLISH DESIGN – Made to look great on your patio, deck, railing, table or even as a vertical garden. Place this planter anywhere and let its simple hydroponic system and sleek design do the rest!
OUR QUALITY – Each Go Grow Hydroponic Planter is made of Aluminum and robotically welded before being powder-coated both inside and out for a perfect finish that will last a lifetime. Why settle for plastic which will fade, become brittle and must be replaced?
SUPPORT A GREAT CAUSE! – Get One, Help a Community Grow. Go Grow works with Operation Mobilization (Not-For-Profit) to give a portion of every sale to those in struggling communities by providing the technology to grow healthy produce.
Click HERE to read more
VegeBox Large Hydroponics Growing System with LED Garden Light, Indoor Herb Garden
Distinguishing Feature of VegeBox Home-Box: Built-in auto water cycling system, which will change water automatically for every 30 minutes; Interior light reflection design helping plants to absorb more nutrition; LED bionic light selects the best spectrum for plants growing
Simple and Smart Home Gardening: Fill the water tank and sit the sponge, cultivate seeds with included nutrient concentrates. Once sprouted, connect and turn on LED lighting. Now your home herb garden is good to go. No soil or green thumb required. Full-spectrum 44-watt LED grow lighting with auto turn-on/off feature will save your time and effort. You only need water them 1 time every two weeks.
Eco-friendly and Trouble-free Grow: VegeBox herb garden kit creates eco-friendly recycled hydroponics. No herbicides, no pesticides, non-GMO seeds, no chemical residues, everything is safe here. In the system, roots are suspended in water and air, making sure plants get enough water and oxygen for fast and healthy growth. Up to 28 plants could be grown at a time with a water tank of 10L. This would encourage home cooking and thus food miles are eliminated and more oxygen is produced.
Fresh Vegetables Year Around: All Vegeboxs come with automated, built-in LED grow light panels that provide everything plants need to produce and flourish. Get one and built your home herb garden, using our seedless pods and tailored nutrients, you could plant any seeds you want from herbs, plants, and fruits, enjoying fresh vegetables year-round, even in the cold weather.
Dimension: 28.5 x 14.8 x 17.5 inches. 28 Planting Vacancy. Max water capacity of 10L. Rated Power of 44W/H, 1KWH/2 DAYS. Accessories include 30 planting basket, 30 sponge, 5 caps, 1 seedbox, 60ml nutrition A and B, non-woven bag, user manual, measuring cup and tweezers. In case accessories missing, please feel free to ask for replacements. They stand behind their products and are always there to help.
Click HERE to read more
Homes Garden Self-Watering Vertical Garden Planter
AUTOMATIC DRIPPING FUNCTIONAL – Self-watering drip irrigation system design makes watering easier and conserves water. Water from the tap drips on the topmost row and moves down to each succeeding row to ensure all plants are adequately watered but no stagnant water remains. Unique and space-saving way, with 3 pockets in one planter and with 3 filter layers excellent for planting native perennials, flowering annuals, safe for growing food.14 sets planter covers 1 square meter area of wall.
EASY TO ASSEMBLE – Lightweight, make hanging easily. In just a few minutes create your own piece of plant heaven. Use the screws to fasten it on the wall or fence, in staggered rows, put the plants in, and hang planter up, done! Best of all, if you move, simply take them apart. The walls can be built indoors or out, can be as large or small as you like, meaning it can be tailored to suit the size of your space. Easy to assemble together, kids can even do it. Ultra-low maintenance.
EXCELLENT QUALITY: Fade-proof, Weather-proof, Maintenance-free. The quality plastic composite is waterproof and won't dent, rust or stain like other materials can when subjected to the elements. Designed with special features and made of better materials, these containers are a superior alternative to average everyday plastic, clay, metal or ceramic pots. These containers will last a long time whether they are placed in the living room or outside on the patio.
ESPECIALLY SUITABLE FOR INDOOR AND OUTDOOR – Living plant walls are set to be one of the hottest new gardening trends of 2019! This wall-mounted hanging planter is delightful to watch, that ideal for backyards or indoor(with plugs) homes wherever you wanted. Place on balcony garden, home decor, supermarket wall, cafe decor, garden nursery. A living wall is a great way to introduce greenery into your home and refresh a space, creating a modern and sophisticated look that will add interest.
BEST SERVICE: They offer an 8-YEARS WARRANTY and provide exceptional quality products and top-notch customer service! Excellent purchase!
Click HERE to read more
Maze Three Worm Farm Composters with Shelving
Designed & produced in Australia from mostly recycled materials, this stylish yet customizable worm farm fits seamlessly into any area around your home. Unlike other bulky worm farms, the Maze farm will not only take up a small space even if using multiples (vertical shelving available) but will look good on your balcony, deck or garden.
This kit comes with three Maze worm Farms, therefore, it has 6 working trays which can be rotated avoiding the need for more trays. The stacking trays & the base utilize optimal aeration. The open-drain in the base ensures worm tea is not building up & lets airflow from the bottom of the farm. The worm Saver tray stops the Worms from falling through to the bottom & is easily pulled out to scrape the worm castings & make sure it stays clean to ensure good liquid & airflow.
A 2-liter flat collection tray sits under the worm farm to ensure the rich worm tea is collected as it drains. The metal shelving unit designed to suit the Maze worm farm is the perfect addition to enable you to place 3 working Farms in the same footprint thereby not taking up valuable space. Multiple worm Farms help to increase the capacity to recycle the waste as required. Even with one worm farm this shelf will elevate the worm farm to a very comfortable height & avoid bending down to fill & empty the farm. This starter kit includes 3- Maze worm Farms, 3- coconut peat blocks, 3 lbs of red Wiggler worms & 1- three-tiered shelving system.
Click HERE to read more
Mindful Design LED Indoor Herb Garden with Timer
GARDEN ANYWHERE – Love to garden but don't have space? The Mindful Design LED Indoor Herb Garden will bring your dream garden indoors. Perfect for offices, bedrooms, small apartments, or for when the weather outside is too harsh!
SUNLIGHT SIMULATING LED – The bright, 850 lumens, 4000k LED simulates natural sunlight, encouraging healthy plant growth.
AUTOMATIC SMART TIMER – LED light features automatic 16hr on, 8hr off mode so you never have to worry about turning the light on or off – the work is done for you.
GROW ANY TYPE OF PLANT – No special seed pods or extra equipment is required; grow any seed or plant you wish, as long as it fits! Ideal for growing everything from fresh herbs to leafy greens, vegetables, or even flowers. The possibilities are endless!
PRODUCT SPECIFICATIONS – Planter measures 14″ L x 5.9″ W x 16.5″ H; pots, seeds, and plants not included.
Click HERE to read more
Miracle-Gro Twelve Indoor Growing System, Side Table with LED Grow Light
The Miracle Gro Twelve is a fully integrated indoor growing system that simplifies the hydroponic process so you can grow a wide variety of leafy greens, herbs and flowers inside your home year-round – just add seeds, cuttings or start with a young plant
Includes 1 Transplanting Kit (contains latex), 2 packets of Plant Nutrition, and 1 Seed Starting Kit (seeds not included) grow the food you love indoors year-round with the Miracle Gro Twelve Indoor Growing System
As it is Bluetooth connected, it takes the guesswork out of growing and lets you control your system right from your phone with the Miracle Gro Twelve app
The Miracle Gro Twelve Indoor Growing System LED hydroponic grow light is specially designed for indoor gardening to grow up to 4 plants to add greenery to your home and fresh flavors to your kitchen
It is thoughtfully designed as an accent table to make growing indoors simple, easy and beautiful it seamlessly blends in with your existing décor
Click HERE to read more
Great Christmas Ideas for the Green Thumb – Conclusion
I hope that you have found these suggestions helpful in making your decision as to what hard-to-find Christmas gift to get for your favorite green thumb!  I have tried to choose each item for its great build, usefulness or educational value, as well as great looks and uniqueness.  Bring nature into your home this Christmas – everybody could use more green!
Please share and follow this!  I would also LOVE to hear your comments on my choices and/or get YOUR suggestions!
Related Posts

0 (0) Are "Organic" nutrients really better for your system or for your customers? Find out in this video from…
5 (8) Did you hear the story of a farmer who started growing strawberries? Yes? But, do you know he…
Please follow and like us: