Whether you are growing your own food inside or out, a worm composting bin is great to turn household food scraps into "black gold". Worm castings are the richest natural fertilizer known to humans. That's right: as little as a tablespoon of pure worm castings provides enough organic plant nutrients to feed a 6″ potted plant for more than two months. Worm castings stimulate plant growth more than any other natural product on the market. Unlike animal manure and artificial fertilizers it is absorbed easily and immediately by plants. Worm castings don't only stimulate plant growth: they also enhance the ability of your soil to retain water (because of its texture), and it even inhibits root diseases such as root rot.
Worm castings contain minerals and are a 100% organic fertilizer that can increase a plant's yield, protect both soil and plants from diseases and help the soil retain moisture. When seeds or plants are planted in a soil right in castings, this pest-resistance is then transferred to the plant.
How to Compost with Worms
You can build your own vermicomposter or worm bin or buy one of the many offered on-line. They must be kept inside as extreme heat fluctuations will kill your worms.
This great video from the University of Maine shows you how to build your own!
You will need a large plastic bin (about 8 or so gallon size) with a lid and a plastic tray to put under it that is about 4-6 inches deep. Drill about 10-12 1/4 inch holes all over the bottom of the large bin. Also, drill 1/2 inch holes about 4 inches apart around the top of the bin for aeration.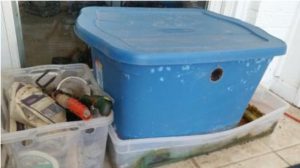 Make bedding for the worms by combining paper, dry leaves, soil and just enough water to dampen everything. Put the mixture into the tall bin and fill the bin about three inches deep. Add your worms to the mixture and let them get used to it for a day before feeding them. Make sure the mixture is moist, but not forming puddles of water.
Collect food scraps, such as vegetables and fruit scraps, bread, tea bags, coffee grounds and filters, and cereal in your food scrap container as you prepare and clean up after meals. Do not include any animal by-products (fat, bone, dairy, meat, waste). Also, it may take the worms longer to process woody or dry items like stems. I use an old ice cream container to collect my scraps and then freeze them. This helps to break down the cellular structure of the food before the worms even get to it. Thaw thoroughly before adding to the bin. This is optional but speeds up the process. You should use an equal amount of food scraps to carbon. Carbon can be dry leaves or any kind of shredded paper except for glossy paper. Bury the kitchen scraps in the bedding, starting in one corner and then in different places going in a clockwise direction around the bin. The worms will naturally migrate to the fresh food once they are done with the old. If your bin starts to develop an off odor or fruit flies, use more shredded paper.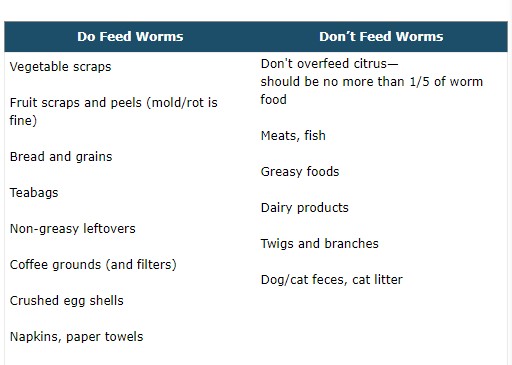 Put bricks or old plant pots into the bottom tray and put the large compost bin on top of it. This will allow for excess drainage of water in case you should accidentally put too much water in the bedding.
Please note that this site is supported by affiliate marketing which means that a small portion will be paid to maintain this site from any purchases made through it.  This in no way effects the price of the products on this page.
What Kind of Worms?
Remember the show "WKRP in Cincinnati" and the jingle, "Red wrigglers, the Cadillac of worms"? Well, they really are! Normal earthworms die in a worm composter as they are used to digging down much deeper into cool soil. You can buy red wigglers from bait shops, horticulture stores or get them from fellow "worm composters". One pound should do and they readily reproduce if there is more food than they can handle.
Click HERE to buy on Amazon.
Want to Read More?
I found an excellent book on vermicomposting and this is The Worm Farming Revolution Book.  The Worm Farming Revolution book is full of information, tips & techniques, photos, charts, inspirational quotes, coloring pages, facts, composting terms, how to harvest & use worm castings on your plants, how to grow healthy, large & pest-free vegetation, and on and on.  Click here for full product information.
Commercial Worm Bins
All of these bins have stackable trays that allow your worms to finish off one level before moving on up to the next level.  This saves you work in screening out the compost in order to save your worms and makes things much easier.  Make very sure that you use an equal amount of bedding (shredded paper or leaves) to food scraps in these units in order to avoid anaerobic decomposition, foul odors or flies.  If you follow this simple rule, all of these composters make vermicomposting so much simpler and pretty much "idiot proof".
Worm Factory 360
I have been using the Worm Factory 360 for years now and it is my hands down favourite. It comes with:
A standard 4-Tray size which is expandable up to 8 trays, giving it the largest volume of any home composter.
The redesigned lid converts to a handy stand for trays while harvesting the compost.
Includes digital instructional manual with step-by-step guide for managing your Worm Factory 360.
Bonus "What Can Red Wigglers Eat?" infographic refrigerator magnet (6″ by 9″) allows you to quickly determine which foods are perfect for your worms, and which you should avoid. Imagine the peace of mind you will feel knowing that your worms are always eating a healthy diet!
Built in "worm tea" collector tray and spigot for easy draining.
Click HERE to see in Amazon.
Hot Frog Living Composter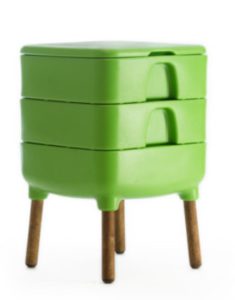 The HOT FROG Living Composter (Vermicomposter) is the 2nd generation of worm composters created by FCMP Outdoor. They've incorporated some terrific design updates in our latest version.
1) A moisture control water retention channel runs around the outside of each tray. Instead of allowing the liquids to fall directly through the tray this channel gathers moisture to prevent the bedding from drying out along the edges.
2) When it's time to expand your living composter a collection of 40 angled tunnels extend down from the base of each tray directly into the bedding of the tray below. This provides ample opportunity for worms to migrate between trays.
3) Aeration is important for happy worms and good compost. A series of support points are molded into the lower edge of the trays. This raises the trays slightly allowing 360 degrees of airflow across the bedding.
4) The double walled lid and base provide excellent insulation against temperature swings helping to maintain an ideal environment. Happy worms are productive worms.
5) The spigot on the bottom allows you to collect the worm tea easily with no mess!
Click HERE to see in Amazon.
Please note that this site is supported by affiliate marketing which means that a small portion will be paid to maintain this site from any purchases made through it.  This in no way effects the price of the products on this page.
Conclusion
During the winter when you just don't want to be trudging through feet of snow to the outdoor compost pile, any of these worm composing options will be your saving grace! All they take up is about 2 ft x 2 ft of space and can be put anywhere in your house or garage as long as they are kept at around room temperature. I just can't recommend vermicomposting more to help keep our planet green and your plants in the best health they've ever been!
Let me know what you think of composting with worms and share your story, too!  Don't forget to hit follow for up-coming blogs.
Please follow and like us: