Best LED Grow Lights for 2020
Below I have rounded up what to look for when shopping for LED grow lights, followed by a list of what I consider to be the best LED grow lights available on the market in 2020. The kind of light you use has a monumental impact on your growing efforts. Many factors go into what LED light to use for growing plants indoors and are presented for you below
Are LEDs a Good Choice for Growing Plants Indoors?
LED lights are fairly new to the growing scene.  Today's LED lights are much better for growing plants indoors than the ones available even a few years ago.
Many modern lamps are full spectrum or "wideband" spectrum (instead of only red and blue light diodes, which product a bluish-purple light and are sometimes called "blurples"). Full-spectrum light is easier on the eyes and adding at least some amount of green light to blurples typically results in healthier growth. Other spectrum colors like red, far-red, and infrared are important for the budding/flowering stage of plants. LED manufacturers have developed specialized lenses to point the light directly to the plants and increase penetration, resulting in bigger yields for the same amount of light compared to older models. There are also many different factors, with everything from the casing to the size of the diodes varying from model to model.
There are some clear advantages you should be aware of. LED lights are often power and energy and saving, which translates to dollar signs. You will feel less impact on your energy bill at the end of the month if you are using LED lighting.
Another great advantage is that LED lights can be chosen in different colors or adjusted to mimic the outdoor light your plants would be getting in each season. This boosts growth and success in your indoor garden.
LED lights are usually much smaller than traditional grow lights, meaning you won't need a large dedicated space to set up your indoor garden. This is perfect for anyone who lives in a smaller space but still wants to take part in indoor gardening.
While LED lights might cost a little more initially, you can expect they will outlast traditional lighting since they tend to illuminate for many more hours per light. Over time this will translate to savings for you.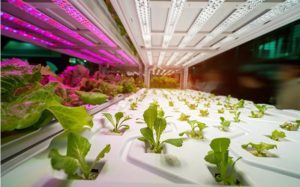 However, many people still use the HID (High-Intensity Discharge) lights like Metal Halide (MH) or High-Pressure Sodium (HPS) and for good reason.  Each type of light has its pros and cons and there really is no definitive answer.
How to Choose the Best LED Grow Lights for Indoor Plants
You may be thinking, "Aren't all grow lights basically the same?" but this is not necessarily true. When you are purchasing grow lights for the first time, or even replacing old ones, you should look for these key features or characteristics when considering one light over another. These points will help you conclude which is right for your specific case.
Shape of the Light
LED grow lights are available in a variety of shapes from panels to saucer shapes and even light bars. It is best to consider where you will be setting up your indoor growing space and this will assist in deciding which shape is suitable for you. Smaller lights are great for smaller space but also for setting up in scattered patterns, whereas a panel light covers longer stretches of space.
Hours of Burn Time
Not all LED lights burn at the same rate. You should always check to see what the estimated life expectancy of each light is prior to purchasing. A higher dollar amount does not necessarily mean you are getting the best value or the best quality LED grow light. Read the packaging to see how long you should expect to have this light before it needs replacing.  Also, check for those lights with longer warranties as these are usually built to last.
Excellent Quality Internal Chip
At the heart of every LED light is a chip that will convert your electricity into light. This chip must be of high quality to ensure there is enough powerful light to get your garden growing. A good rule of thumb is to find an LED light with a chip of at least 3 watts, so you can be sure it has enough luminosity to get the job done.
Lower Heat Generation
This is an important key feature for any LED grow light you purchase. Some LED lights will output higher heat and create a warmer environment in doing so. In turn, you would have to cool your space with fans to have the proper growing temperature for your plants. To save yourself having this setup, it is much simpler to purchase LED lights with low heat output. Not only will they generate less atmospheric heat, but they also tend to last longer since they are not burning so hot at a constant rate.
Ease of Use
Even if you are not new to indoor gardening, your time is important. The last thing you want to be doing is tinkering with your LED grow lights for hours trying to get them adjusted just right. Choose an LED light that is simple and easy to use. This means you should be able to easily set the height and intensity without much fuss.
Light Spectrum
While plants can grow under most spectrums, to make the process efficient they need specific wavelengths throughout each growth stage. High quality LED lights provide the full spectrum of light, allowing you to select the best one for each growing stage. Plants naturally react and grow based on the spectrum of light they get outdoors. They will grow as long as they receive blue and red lights, though most good LED lights offer the full spectrum. The spectrum you use in different stages will affect the plant's growth patterns.
Blue lights (400nm – 500nm): Blue lights are often used in the vegetative stage of growth. That's because this spectrum mimics the sunlight during summertime. Plants use this blue spectrum as a hint to spread its leaves in order to soak up as much sun as possible during the summer. It's recommended to use blue light during the plant's vegetative stage so it spreads and grows leafy. However, if you use blue light throughout growing you'll get plants with short stems but with large healthy leaves.
Red lights (660nm – 730nm): Red or yellow lights are often used in the flowering stage of growth. This spectrum mimics the sunlight during the fall. This is when plants grow tall to prepare for the upcoming winter. Taller plants are in a better position to bud and pollinate via winter winds. Using more red light stimulates your plants to grow taller and flower (promoting bud growth).
Since you're playing the role of the sun, you can choose the optimal spectrum of light for the strain of weed you're growing. Most LED grow lights come with customized spectrums of light that are optimized for speedy growth. Manufacturers often state the PAR of their LED grow lights. Photosynthetically active radiation, or PAR, is the wavelengths of light between 400nm and 700nm. These wavelengths are the best for photosynthesis.
Amount of light
The more light your plants receive, the better they grow. So, how do you find an LED grow light that emits the highest quantity of light? For one, LED lights are already designed to directly aim at the plant. Panels that are 3W per bulb produce the highest yield without burning the plant. More panels help spread light over more area. It's recommended to use an LED grow light with over 2 panels if you plan on having a large growing space.
Wattage per square foot and coverage area
Your grow lights will be running for long hours, so you'll want to save electricity. You'll want to check the electrical output of your light, which should optimally stay over 300W. If the wattage is too high, you can run the risk of burning your plants. The recommended amount for growing cannabis is 50-60 watts per square foot. You will also want to know how much area your lights can cover. Most lights we recommended today have a coverage area of 3 ft x 3 ft at the vegetative stage.
Quality of materials
LED lights can be an expensive investment and the quality of your light source highly affects the yield. You want an LED light that gives off 3W per bulb, meaning the semiconductor chip needs to be of high quality. You need to look for durability; very durable LED grow lights last for 50,000 hours plus. Look for manufacturers that state longer warranties (2 years plus). They are most likely using the highest quality materials. Most grow lights we suggested today come with a hanging hook and power cord.
Please note that this site is supported by affiliate marketing which means that a small portion will be paid to maintain this site from any purchases made through it. This in no way affects the price of the products on this page.
3 Main Types of LED Grow Lights
There are 3 main types of LEDs that are most commonly used for growing cannabis. Each type of model has its pros and cons, so there isn't yet a "best" LED grow light type. Some are better for some situations than others.
Many smaller LEDs are spread out over a large area. Examples of this style include Quantum Boards, Rack and "Spider style" LED grow lights.
The name "Quantum Board LED grow light" originated from Horticulture Lighting Group, though the term is now sometimes used for any LED in this style. They tend to have relatively low wattage diodes which are spread out over a large area on a board. These are becoming more popular lately, and seem to offer particularly good results for the amount of wattage used.
Spider LED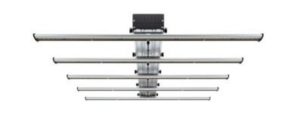 The "spider style" LEDs are similar to Quantum Boards in that the individual diodes are spread out and tend to be on the smaller side, but they are set on a panel with "arms" like a spider as opposed to a solid board. One very popular example is the SPYDRx line of LED lights. These typically have an extremely high price, but growers who use them swear they get better results than any other type of LED grow light in 2020.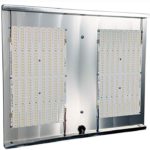 2) Traditional Panel
The standard panel LEDs have small to medium wattage diodes and the lamps tend to be more compact. Most LED grow lights available today are in this style. They are sort of halfway between a Quantum Board and a COB Style light, with a mix of features from both.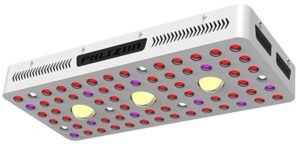 I'm also seeing lots of new "hybrid" LED grow lights appearing, that contain a mix of big and little LEDs, and unique form factors that mix and match between all the styles.
3) COB Style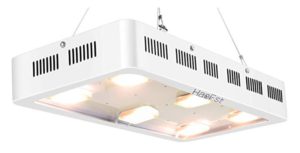 These grow lights use huge COB (Chip on Board) LED "bulbs". Each COB is incredibly bright and intense because they contain multiple LED chips in a small area. COBs produce more intense light than other types of LEDs, and each COB uses a significant amount of electricity. Cree is the most popular brand of COBs.
Instead of having dozens of small diodes, COB style LED grow lights typically only have a handful of huge COBs, each with strong lenses to direct the light down into the plant. These are rapidly gaining in popularity and are known for having deep penetration into the plant canopy.
AutoCOBs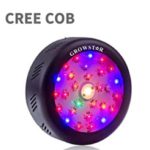 It's also common to see LED grow lights that only have one COB per lamp. These make it easy to spread out your light over a grow area, one lamp at a time. Sometimes known as "AutoCOBs".
Each COB has its own spectrum, so you can create a custom spectrum for your plants by combining multiple AutoCOBs together. They are very configurable if you have an unusually shaped grow space, or want to be able to accommodate different plants of different sizes at the same time.
Best LED Grow Lights for 2020
My First Pick:  BESTVA 2000W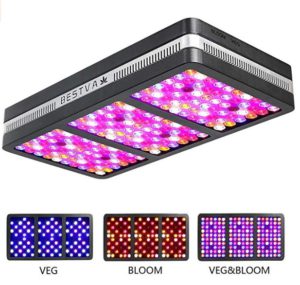 Out of the hundreds of lights reviewed, the BESTVA 2000W definitely hits the sweet spot in terms of the most bang for your buck. This light is priced modestly and runs very cool. It works great in different sized tents and the light spread is second to none.
These lights are made from China, but don't let that fool you, they're very powerful and work very well for any type of grow. The fans are extremely quiet. It's recommended that during the flowering stage, you limit the use of this light to a 4×4 space in order to maximize efficiency and light intensity. The design of this light allows for great light penetration and the set up is easy with minimal weight restrictions.
The new and improved Reflector Series model features a veg/flower switch, so it's better than some of the cheaper LED grow lights on the market. This LED grow light definitely shone during the flowering stage and I believe it ranks for the Best LED grow light for 2020.
Click HERE to read more.
Runner Up: King Plus 1200W Double Chips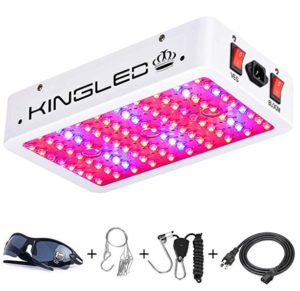 These lights have great design and also have high PAR value across your canopy. King Plus is a relatively new player in the market, but they have come out swinging with this light. Featuring 10W Double Chips, which are brighter more efficient than traditional 3W and 5W LEDs, this lamp is scientifically engineered to keep the balance of the PAR & lumen output and coverage. It gives BESTVA a run for its money, beating it on $ / watt, but keep in mind you typically get what you pay for and you can expect the BESTVA to last longer.
Great for grow tents, a room, and greenhouses. This is also a great product for you if you want something that's easy to install as it comes with everything you need (hangers, cords, carabiners).
This light produces very high PAR at a very low wattage. Great for energy consumption and for the price, this light gets the job done.  As my second best pic for LED grow lights for 2020, you really can't go wrong.
Click HERE to read more.
Advanced Platinum Series P300 300W – Good For Beginners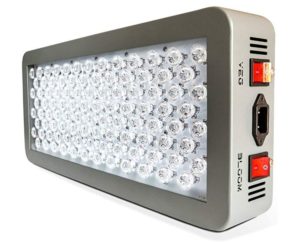 For those who love the P600 but don't have quite that large of a budget, the Advanced Platinum Series P300 is a great runner-up. This is definitely a more affordable LED grow light that offers many of the same benefits as the P600, but at around half the price.
Its coverage is about 4.5 feet by 3.8 feet at an 18-inch height, perfect for compact grow areas, or when used in combination with additional lamps for larger areas. This light panel effectively replaces a 400W HPS light, while only actually using 180 watts of power – making it an energy-efficient alternative to a traditional light. It's just perfect for the small home grower. Just as the P600 represents the higher end of the market, this is still a serious piece of equipment–practically a steal for the amazing coverage you get.
This is a system that has a great high PAR per Lumen output of any other LED grow light panel I've seen. What does that mean? Well, it means the panel gives off about 2 to 3 times the intensity of other grow lights.
More importantly, it has an 11 band spectrum that gives your plants the most nutritional value including those needed from UV and IR. The light chips are all 3W LEDs, and as I've mentioned before, the best 3-watt panels have an additional lens to focus the light a bit more. This panel comes with a 60-degree lens and a secondary 90-degree focusing lens to give more intensity for plant growth.
The chips in this lamp are also replaceable and another reason for the slightly higher price tag. This means you can always keep that 400-watt output, even when a chip blows. Just order the one chip and replace it when it arrives from the manufacturer. With a 5-year guarantee, PlatinumLED offers security to its customers.
Click HERE to read more.
Morsen 2400W Full Spectrum Panel – Highest Wattage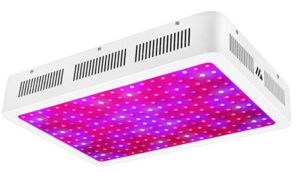 Morsen is a top brand and you are looking for top quality. These lights typically run bigger and more powerful than most other LEDs. These lights have low energy consumption and really run great no matter what stage of plant growth you are in.
It's a very high-quality product and trusted brand for a very good price (especially when you compare to more expensive options out there like California Lightworks). It can be used in house garden, pot culture, sowing, a greenhouse + more. This particular product comes with a free power cord and free-hanging hook. The lifespan for this light is particularly long and runs >50,000 hours and you should be good to go with the 3-year warranty in case anything breaks. This is a very safe option as it is also 3x to 5x the efficiency than HID & HPS lights.
Click HERE to read more.
Electric Sky LED grow lights – Best Customer Service
This company makes "Quantum Board" or "Spread Style" LED grow lights. Normally I only recommend products that can be found consistently on Amazon.com but sometimes you need to order directly from their website. I only include them in this list because this particular company goes above and beyond as far as customer service, and will actually give you detailed instructions on how to use their LEDs to get the best yields and results. The company is also comfortable supporting cannabis/hemp growers and answering questions about plants.  These are extremely popular lights.
Cutting-edge LED technology gives you up to TWICE the growing power & efficiency with only HALF WATT power usage from the wall vs HPS & other LED systems.  This in itself ranks it amongst the best LED grow lights of 2020.
Click HERE to read more.
Conclusion
Make sure you wear grow room glasses around these lights due to the UV rays!  I think we will be seeing more and more people using LED lights as they keep improving in canopy penetration and price.  The energy savings over HID is just incomparable.  What LEDs do you like?  Join the discussion and make sure to share and subscribe!
5 (1) Did you hear the story of a farmer…
Popular Posts
Please follow and like us: