Follow my blog with Bloglovin


When it comes down to emergency preparedness, are you prepared to have fresh food when there may not be any available on the store shelves?  What will you do to feed your family when you can't just go out and buy what you need.  Notice in this video https://www.youtube.com/watch?v=1rslyh7C6gs entitled "Coronavirus could cause global food shortages by April as export curbs worsen supply chain problems" and many like it that we could soon be facing massive food shortages due to this pandemic.  Are you prepared?
Emergency Preparedness – Food
I hope that you are now asking yourself what you should be doing NOW.  First of all, there are very fast-growing crops that you could be getting growing NOW in your own house using whatever method that you would like.  An excellent video on fast-growing crops is this one.
5 Fast Growing Veggies You Can Harvest in Under 1 Month
Be Prepared – Grow Your Own Emergency Food NOW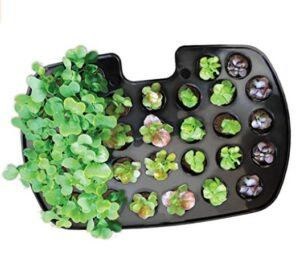 Many of you have read my previous articles but I will be giving you the highlights of them now in order to give you a fast-growing, indoor hydroponic method that can produce fresh greens for your family starting in 30 days.
First of all, you will need an Aerogarden unit.  A full explanation of how these work can be found in my article Aeroponic Grow Systems using the Aerogarden.
You will need an AeroGarden Seed Starting System for a Harvest unit.  This can be found by clicking on the picture or HERE.
Harvest Elite 360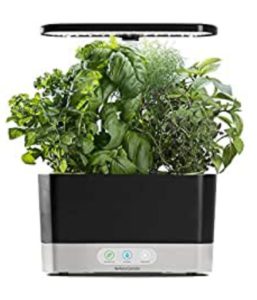 You can find a Harvest unit HERE.  They are on sale on Amazon as at this writing.
These are all-in-one kits that come complete with full-spectrum LED lights that can be raised or lowered, a planting platform with easily insertable plugs and a growing chamber beneath to which you simply add your water and nutrients (also provided).
Most come with seeds but what is critical here is that you can buy just the plugs separately as well and grow whatever makes sense for your family. They come with timers both for spraying the roots at regular intervals and also for the lights. You can set the lights for multiple settings including 24 hours, 18/6, 12/12 and more depending on the type of crop you are growing and what cycle (vegetative or flowering) it is in.
What you need to do is buy one of the specialty platforms for the Harvest units that will allow you to start 50 plants at once – making these units excellent propagation or cloning units. Once the seeds or clones are thriving, they can then be transplanted into larger, commercial hydroponic/aeroponic units
Trick #2 – Transplanting into a Foody 12 Hydroponic Tower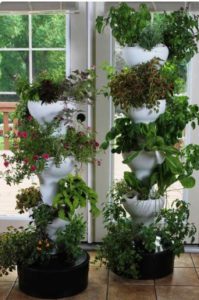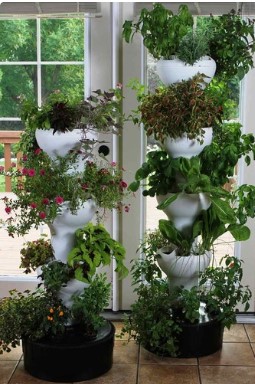 The full "skinny" on this unit can be found in my article on Ebb and Flow systems that features this unit.
Essentially this 44 plant vertical hydroponic system works the same as how a toilet flushes, thereby giving it the "ebb and flow". Water is pumped from the bottom basin up to the top pod. Each Pod is connected to the pod below it by some basic PVC pipes. When the water fills up the first pod and reaches a certain level it starts to flow through the PVC pipe down to the pod below creating a suction that essentially sucks the water out of the top pod down into the pod below it.
It's the same principle as to how a toilet flushes. When you flush the toilet all it does is put more water into the bowl until it fills up enough to create a siphon that pulls the water out of the bowl and flushes it down the pipes. The cool thing about this is that the roots of the plants get soaked in water for a minute or so then once the flushing process happens, it sends the water down to the next pod. The roots are then exposed to air until it fills up again. The process keeps repeating itself. You can hear the water but it's like the sound of a small waterfall.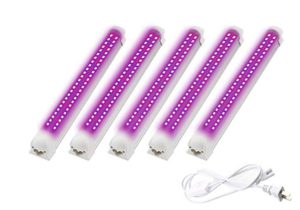 This can be purchased HERE or by clicking on the picture.
Often the light from a window will not provide enough light for growing plants and especially when you are concerned about accelerated growth and growth during the fall/winter/spring when you will not be getting as much light from the sun.  In this case, it would be well worth the time and very minimal expenditure to install LED lights around the unit.  It will take a bit of DIY to construct a frame to hang them on so that they are covering the sides and top of the units.  Click HERE to check them out.


Put it all Together and What Have You Got?
So, you start your seeds (a mix of fast-growing and slower-growing) in the AeroGarden with the specially fitted seed starter lid on it which will start 50 seeds.  Once the seeds have sprouted and are on their way, you transplant them into the Foody 12 Hydroponic Tower which will use 44 of them.  The others you can just switch the top on the AeroGarden and continue growing.  You will have food ready within about 30 days as hydroponics is MUCH faster than growing in soil.  However, you don't want to just grow salad greens.
With 44 sites available on the Foody Tower, you want to grow some fast-growing crops and some slower crops.  The world is your oyster except that you cannot grow root crops in this unit.  I would do a combination of salad greens, swiss chard, kales, bush beans, bok choy, tomatoes, and any other kind of top growing vegetable that you can think of with the exception of climbing vegetables like cucumbers.
As you start to consume vegetables out of the pods, keep seedlings going in the Aerogarden unit to replace that which you consume.  This way, you will never run out of seedlings to put back into the Foody unit.  This self-perpetuating cycle never has to end and will provide you with food 24/7/365.
Conclusion –  Emergency Preparedness – Food
With all of this hydroponically based, your plants will grow MUCH faster than their soil-based friends out in your garden.  Using this system, you will NEVER run out of fresh green food during an emergency again!  Think ahead and be prepared.
5 (1) Did you hear the story of a farmer…
Popular Posts
Please follow and like us: