Best Budget Amazon LED Grow Lights
Today we're going to be looking at the best Amazon LED grow lights, budget versions. A lot of people turn their noses up at these cheap lights but most of us started out with cheap gear.  Many are not really sure whether they want to go through with growing, if they are going to be any good at it or whether they're going to do it for very long.  So they just buy a cheap light off of Amazon to get started and have a go at it.
There is absolutely no shame in doing that and I hope this guide will help in picking that starter light and have hopefully the least amount of or minimize the possibility that you're going to have a poor experience with it.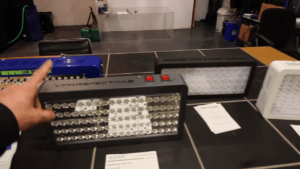 So how did these ones get picked?  Basically, they went to Amazon and typed in LED grow light and the big hitters were up there on page one and so they just picked typical sizes that would suit a starter grow, which would be usually about a two by two and they are in the 100 to 200 watt range. These lights are fairly similarly sized.
What to Look for in Best Budget Amazon LED Grow Lights?
Spectrum
The spectrum was looked at and compared to the ideal spectrum for a blurple light with the blue at about 15% with the majority of the rest red. Red is more efficient for photosynthesis so you want as much red as possible, but you want enough blue to regulate the plant growth. Having at least 10% or 12% blue keeps the plant height low. So you need some blue to regulate the plant height, but more than 15 – 20% is a waste.
Strangely, some of these lights have very high levels of blue. I don't understand why.  It appears to me that the manufacturers don't really understand the horticultural application that the load is for, speaking bluntly, but it doesn't matter as long as they get it right or close to. In terms of efficiency, if you buy an inefficient light. it's not going to do anything negative to the plants per se. They're not going to care if the grow light is efficient or not. It's  just wasting electricity and giving extra heat in your grow.
Efficiency
However, if you're buying a 200 watt light and it's inefficient, it's going to have a low output. So it matters in particular when it's a small light because the range here is about 25 to  30% difference between some of these lights.and some of them are very similarly priced. So efficiency is good if you can get it at this price (which you can).
As a newbie buying a light, you're not going to be familiar enough with the lights to be able to critique or assess these specifications if they're inaccurate. So, we've just assessed how, if they have a manual with them, what it says about the light in terms of hanging height and coverage area and tried to assess if it's accurate or not, based on the tests that are carried out. So that's the other measure which we have shown here in PAR and Spectrum charts.
The lights we will be looking at are:
Meizhi 450W or R90 'reflector' model
Viparspectra 450W Reflector 'two switch'
Phlizon 600W 'double switch'
Roleadro 450W UV and IR
So hopefully it's enough information to make a well-informed purchase of your first budget grow light from Amazon.
Meizhi
First, we've got the Meizhi. I put this at not bad – actually I quite like it. A 1.2 efficiency and instructions are reasonably good. It over specifies as the coverage area a little bit, but not the worst offense. and has got an okay operation manual.  Its also very good value for the money.  Unfortunately, the Meizhi is not available at 450 watts on Amazon at this time.  The only one available is this 900 watt unit that is over double the prices of the others.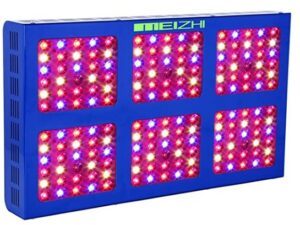 If you are interested in this unit you can find more out more about it HERE but this unit isn't really comparable to the others.  If the 450 watt becomes available again, it will be put here.
ViparSpectra
The ViparSpectra has the lowest efficiency of any of these lights that were tested, so I don't recommend it. The spectrum is not suitable and it's PAR is not good. However, the manual is not too bad actually.
Here is what Amazon has to say about it:
Lighting SAFETY is just as important as EFFICIENCY. The V450 as a whole is UL Certified. It meets UL rigorous testings and safety standards to ensure safe operation. Fire-Resistant reflectors strengthens the light penetration, NO DANGER! VIPARSPECTRA is a trusted brand in the lighting industry by providing the best customer care with quality and safe products.

【Optimal Spectrum】

The secret to VIPARSPECTRA's success is optimal full spectrum lighting which provides plants in all stages from veg to flower with everything they need in the natural sunlight. This results in bigger buds and higher yield all while saving you on energy costs.

【Outstanding Design】

Sturdy durable construction with fire-resistant iron housing. VEG and BLOOM switches are suitable for each growing phase. Upgraded aluminum cooling heat sinks and advanced high speed quiet fans are great for heat dissipation. Daisy chain feature assists growers to connect multiple lights together with fewer outlets.

【Coverage Area】

Comparable to traditional 300W HPS/MH while consuming only 200W! Perfect for a 2.5'x2.5' vegetative coverage at 24" and 2×2' flowering coverage at 18".

【Worry-free 3 Years US warranty】

We are a professional manufacturer which specialized in LED grow light for many years. Products' quality and professional customer service are always our Top concerned. We offer 3 Years local warranty and 30 days money back guarantee. If you have any questions, please feel free to contact us. We will offer you professional guidance to help you and your plants grow better.
Click HERE to view in Amazon
Philzon
The Philzon has an okay manual. The efficiency of this guy is 1.2, so not too bad. It's up there close to the Meizhi except for the relatively poor specifications for hanging height, and, the poor spectrum with way too high of blue.  The price is also a bit less expensive.
The Amazon description of this light is: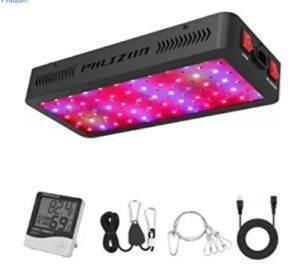 NO REFLECTOR NO DANGER

Many others' grow lights used an led spotlight reflector to make the light look beautiful, but we don't use it because the led reflector is not heat-resistant. If a short circuit occurs, reflector at 80℃ is easy to melt and catch fire. So, we do not use the reflector as we can not give up the safety beause of beauty.

COMPARE TO HPS/MH

Compared to MH / HPS lamps, it generates less heat, more energy saving and lower electricity bills.It has a more comprehensive light spectrum. The 600W LED grow light can replace 100 watt HPS/MH. More effective coverage area than any reflector series lights. Perfect fit for a 2x2ft growing area at 24″ height. The difference of us is that we use double cooling fans. which can most extend the light life.

DOUBLE SWITCH

Veg and Bloom button have different function. Veg switch: It's blue led and white led. For seedling or young vegetative growth,you can use Veg switch only. Bloom switch: It's red led and white led. For flowering/blooming,you can use both Veg and Bloom switches together. View Angle of LEDs: 90°and 120°


FULL SPECTRUM

We did lots of experiments to ensure that this full spectrum promotes plant growth. It includes universal blue red IR UV and white leds which can provide everything plant desired in the natural sunlight. The IR and UV leds can promote plants to defense mechanisms, blue and red led is essential light for plant growth.

BEST SERVICE

Phlizon is a professional LED light manufacturer with strong R&D team and many light tester. 2 years warranty plus 30 days money back guarantee. If you have any problems, please don't hesitate to contact us. We will provide you with a completely satisfing reply.
Click HERE to see on Amazon
Roleadro
The Roleadro has a very cheap price. It has good value for money in terms of output, but the manual for it is just very generic sort of crap. It says hang for example, from 0.5 meters to 1.5 meters, but he best hanging height for this one is about 24 centimeters.  The spectrum is the best of the lot and give's you a great bang for your buck.
Here is the Amazon blurb on it: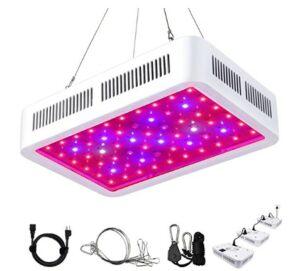 Optimal Full Spectrum

All Kinds of Indoor Plants Will be Happy in all Growth Stage at Any Time and Any Where! The secret is our grow light extracted the most useful Blue Red IR UV and white light spectrum from natural sunlight to help plants perform photosynthesis better. Different from other full spectrum grow lights, we added more RED light to ensure the yield will be increase up to 35%-60%.

Daisy Chain Connection

Two or more 600W LED grow light can be connected together with the standard included power cord. The application of high-efficiency light source system to greenhouses, etc. Releadro 600w led grow light solves the disadvantages of lack of sunshine that causes the taste of tomatoes, cucumbers and other greenhouse vegetables to decline, so that winter greenhouse pea fruits and vegetables are listed before and after the Spring

Festival, thus achieving the purpose of anti-seasons.

Unique Big LED Bead and Zener Design
We adopted led bead and zener design instead of reflector to ensure if one led out won't affect others' leds. And test result shows that the plastic reflector surface can not stand the temperature over 70 degree and will burn out like melt.That is why Galaxhydro grow lights use led bead/zener and always insist on it. We hope growing will be more safely and eco-friendly.

Higher PAR Value and Energy Saving

Unique 90 degree optical lens and Eplieds 10w chips design, bring higher PAR value(540umol at 24") and Lumen output than others. Effectively reduce the light loss and ensure the utilization of light up to 98%.That make this growing light achieved the balance between efficient utilization and energy-saving.

Reliable Warranty and Professional Service/Support

We are not only the seller but also a professional manufacturer with 10 years R&D and production experience of led light.All our products were strictly through high temperature test and check before sent out, 30 months warranty is our promise. With our grow lights, you can enjoy kinds of plants,veg and flowers in anti-season.Any problem, you can just contact us, we will provide you the professional solution and support.
Click HERE to see on Amazon.
Check out this chart for all four lights: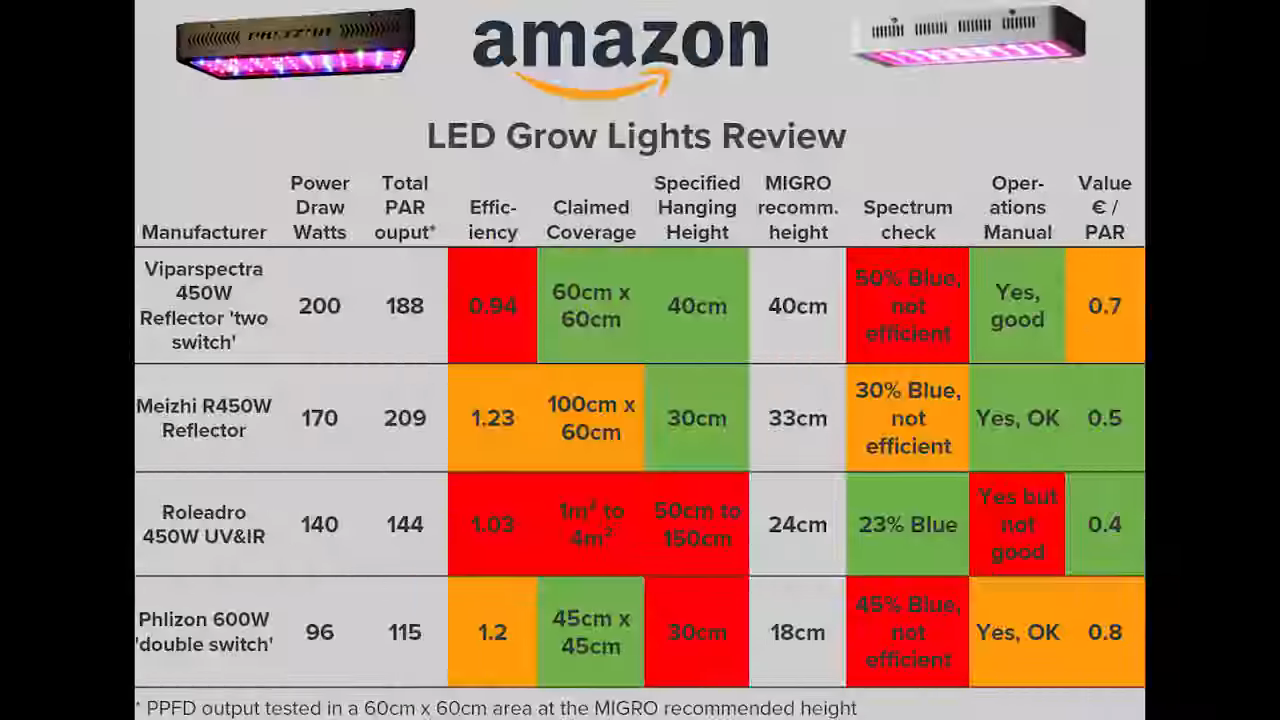 Conclusion:  Best Budget Amazon LED Lights
So there is a mixed range of results, but a clear winner, very good value for money, pretty good spectrum, pretty good manual, best efficiency out of the lot of them is…  >drum roll, please<  the Roleadro. So, as the best budget Amazon LED grow light, I would recommend this over the others and you can have a look at the charts above and the big comparison chart below to compare.
If you enjoyed this please rate it and share it.  Also, please follow this blog by subscribing in the upper right hand corner.
If you liked this article of mine, you also might like:  Best LED Grow Lights for 2020
Related Posts

0 (0) Are "Organic" nutrients really better for your system or for your customers? Find out in this video from…
5 (8) Did you hear the story of a farmer who started growing strawberries? Yes? But, do you know he…
Please follow and like us: