Here you'll see the positives, the negatives, the hard truths, and the fun facts. So if you've been wondering what this whole microgreens thing is all about, stay tuned because I'm about to share with you exactly what to expect. The Real Truth About Growing Microgreens For Profit will show you the good and the bad of growing microgreens.
Growing Microgreens For Profit
I'll start with the fun facts and I'll end with some hard truths. You need to hear both sides of this story so you not only know how amazing this opportunity is, but also what it really takes to create a successful microgreens business.
Fun Fact #1 – Low Start-Up Costs – Great ROI
All right, let's dive right into the fun facts. One, you can start a microgreens business quite easily and make real money doing so. It doesn't take that much to get started, all you really need is some seeds and supplies. And the microgreens themselves, are relatively easy to grow. They also don't take up that much space because you grow them in doors with vertical systems. Microgreens have high profit margins, which means quick returns on your investment and high potential for making real money long term.
Fun Fact #2 – Lots of Instructional Materials
Even if you are new at this, you can still be net positive after nine months, and doing six figures after only two years in business. Fun fact number two, there's more information out now about growing microgreens and a microgreens business than there ever was before.
Fun Fact #3 – Follows Today's Market Trends
Knowledge is power and everything that you need to start a microgreens business is right at your fingertips. Fun fact number three, a microgreens business currently aligns with market trends of health and wellness. The global health and wellness industry is worth over four trillion dollars right now, and clean eating is a major driving factor.
Microgreens just happened to be one of the healthiest foods on the planet, so I can tell you right now, that as time goes on, more people are going to be eating microgreens. So you might as well be one of the people growing them. Okay, now that I've talked about some of the fun facts about growing microgreens for profit, you need to hear about some of the hard truths about doing this as a business.
Growing Microgreens For Profit
Hard Fact #1 – You Need Hard Work, Dedication and Time
Number one, running any business is extremely difficult and takes a massive amount of hard work, dedication, and time. Starting and growing a business is not for everyone and I highly recommend that you deploy self awareness in your decision around becoming an entrepreneur.
And even if you are destined for entrepreneurship, your situation might be hindering because of other responsibilities you might have in your life at this current moment. You need a small amount of start up capital and then enough money to keep you in the black while you ramp up the business.
Hard Truth #2 – Forget About Taking a Vacation
Hard truth number two, depending on how your business is set up, you might not be able to take a vacation or even a day off for years once your business really starts going. Because of the logistics behind growing microgreens, you can't exactly just pick up and leave your farm. The plants need to be watered every day and there's various farm tasks that need to get done in order to keep everything moving forward.
Once you have multiple harvesting days per week, chances are you will have multiple farm tasks to complete every single day. This means no days off and no vacations unless you have somebody who can do this work for you, like a friend or a family member or maybe a business partner.
Hard Fact #3 – Rejection and Mistakes
Hard truth number three, you will get rejected, sometimes constantly, and you will make mistakes. There's really just no way around this, not everybody's going to want your product, in fact, most people won't, so you're gonna be faced with consistent rejection.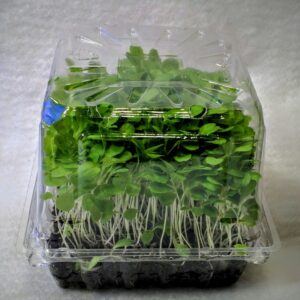 Growing microgreens and running a business are skills that you'll have to develop over time, you're gonna make mistakes which feels bad in the short run, but in the long run, these are gonna lead to tremendous learning experiences that you're gonna be able to take with you through your whole life.
Equipment for Growing Microgreens For Profit
To start off, you will need the following:
As things start really going, you will need clamshell or other types of containers to sell the microgreens in.
Microgreens are a great way to make money, either part time or as a business to support your family.  You can get started with $300 or under so this business has very low start up costs.
Do share this post with friends and subscribe to future mailings and comment below!
If you enjoyed this article of mine, you might like:  Make Money Growing Microgreens Indoors
Source Link: https://www.youtube.com/watch?v=V6bjPXuQl9U
Related Posts
5 (8) Did you hear the story of a farmer who started growing strawberries? Yes? But, do you know he…

0 (0) Are "Organic" nutrients really better for your system or for your customers? Find out in this video from…
Please follow and like us: