Over the past year, there has been an increasing number of vertical style LED grow lights that have hit the internet as LED grows at companies compete for the vertical commercial rail market and
the expanding population of home growers looking to evenly light the grow rooms intensity. So you might be wondering what makes a Grower's Choice ROI-E680 stand out in the sea of lights. This review will show that the Grower's Choice excels in light output. It's competitively efficient. It uses high quality, name-brand diodes, has an ideal full spectrum high uniformity and is priced under $900.  It also comes with temperature sensors RJ11 cables and a power adapter.
Grower's Choice ROI-E680 LED Grow Light Review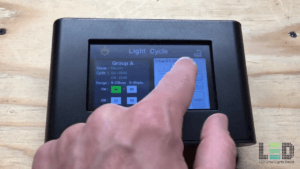 Before we get into the main part of the review, let's see how to use the controller. It's really easy.  There are a few different functions like HID dimming and light cycle. The one here is really easy and you could set your cycle by pressing these buttons and adjusting the time.  It also has LED dibbing, which you can set at any percentage. I recommend above 15%.  You can turn this on-off or select auto. You can also adjust the temperature, can auto-dim them at a certain temperature, or select the shutdown temperature. It also has a sunrise and sunset effect, so you can set those. It has a configuration button which you can set the date-time, so on and so forth. So, it's pretty straightforward and easy.
Light Specifications

The Grower's Choice ROI-E680 LED Grow Light is a vertical grow fixture, but it can be used in a horizontal application including open rooms and tents too and that is why I wanted too review it. It contains eight passively tooled low profile bars across a foldable frame. The foldable frame is a boon because it reduces shipping and storage size by half.  The Grower's Choice is ready to plug and play out of the box after you hang it up. The unit measures 42.4 by 42 by 2.4 inches and it weighs 30 pounds. It is designed to replace a light intensity of more than a 1000 watt hid grow light based on its power readings. Top bin Osram 120 degree diodes are used across the entire fixture powered by highly efficient drivers. The diodes and PCBs are conformally coated to protect them from excess water.
The fixture is rated IP 65 for dust and moisture.  Expect about 54,000 hours until the fixture reaches 90% of its original light output. This LED emits 1,700 micromoles per second of light with an efficacy of 2.5 micromoles per joule. The fixture is manually and remotely dimmable. If you don't use a controller for the fixture, you can dim the fixture from 100% to a set 80% 60% or 40% intensity. With the grower's choice controller or most other controllers, you have more control and options over the set intensities. The Grower's Choice is rated for 110 volts to 277 volts AC and draws an advertised wattage of 680 Watts at the wall. However, at 120 volts the fixer pulled 710 Watts from the wall and a 6.0 amp's at full intensity. Expect about 2.94 amps at 240 volts at full intensity. Also measured were 540 Watts and 4.6 amps at 80%, 385 Watts and 3.2 amps at 60% intensity, and 265 Watts and 2.2 AMS at 40% intensity.
Color Spectrum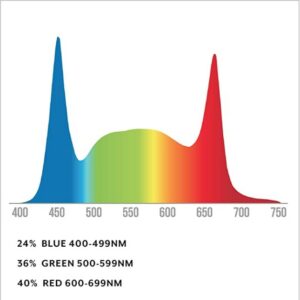 These different settings are ideal for lowering the intensity during vegetative growth. When you use that full power, you will save around 40% in energy and HVAC requirements over traditional HID lighting while maintaining the same or more light output. There's a three-year warranty on this fixture which shows me that this company stands behind its product. This unit is ETL approved and CE certified for commercial grows. There are three different wavelengths or spectrums that make up the Grower's Choice. warm white, cool white and six 60 nanometer deep red. The spectrum is fixed and can only be dimmed. There is no UVA in the fixture but there is far-red or IRR as it's commonly known, which is naturally present in white light diodes. Grower's Choice uses its GC 3K full phase spectrum in this fixture. It's a full spectrum fixture and it'll take the plants from seed to harvest. The spectrum is a little heavier in blue than some other full-cycle lights on the market, which is actually ideal for increase in quality during flowering.
The added six 60 nanometer deep red is ideal for speeding up photosynthesis, can assist in increasing yields and helps boost the efficiency of the fixture based off of the high light output of this fixture. The vegetative footprint is an easy six foot by six foot area. The fixture will flower a solid four by four area, and may be used in up to a five by five space, but expect less light per square foot based on the PAR readings. I would not hang this light closer than about 12 inches from the canopy at full intensity for flowering for most growers.  It is advertised for as close as six-inches, but as you will see, the PAR readings are quite good at a height of 12 inches. I recommend hanging this light at six to 10 inches but only if you have your temperatures, humidity, and CO2 dialed in and know your plants can handle the higher intensities.
PAR Readings for the Grower's Choice ROI-E680 LED Grow Light Review
Let's check out the PAR readings for this light in a four by four gorilla grow tent. As a disclaimer, you're going to see the highest PAR readings in a 10 or with an array of fixtures in an open area versus a single light in an open area. The first reading is going to be at two feet above the bottom of the tent. It's registering 950 PPFD right in the center, the back edge 760 PPFD and the corner about 670 PPFT. So at this height, we're getting the most uniform coverage, however, the lowest intensity.  Conversely, you can also flower at this intensity. When reviewing the PAR readings around the entire tent, you get a fairly even footprint with the Grower's Choice ROI-E680 LED Grow Light.
The next reading is going to be at 18 inches. We're hitting well over a thousand PPFD at about 1,130 in the center, at the edge around 800 PPDT and in the corner, it's at the lowest point around 670 PPFD. Across most of the footprint, we're getting just under a thousand PPFD, which is very good for flowering.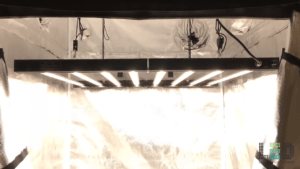 The final reading is going to be at 12 inches above the bottom of the tent.  At 12 inches in the center, we're getting about 1,350 PPFD, which is really quite high, at the back it drops to about 800 PPFD and into the corner, it is around 600-615 PPFD. So notice this is at least uniform coverage and it to have the highest intensities across most of the footprint. So again, when the PAR meter is moved around the area, it looks like most of the readings are at above a thousand PPFD, which is excellent for flowering. I wouldn't use this light closer than 12 inches unless your plants can really take it. I would say that this is a perfect hanging height.
Please note that this site is supported by affiliate marketing which means that a small portion will be paid to maintain this site from any purchases made through it. This in no way affects the price of the products on this page.
Check out this awesome light right HERE
Conclusion: Grower's Choice ROI-E680 LED Grow Light
At the time of this review, the MSRP on the Grower's Choice ROI-E680 LED Grow Light is under $900 CDN as of March 2020 plus you get free shipping.  Free shipping is also available in the lower 48 States with no additional tax. Grower's Choice is headquartered in Canada; however, stock is located in the USA for USA based customers.  I really enjoyed reviewing this light and think it's really hard to beat the top end Osram diodes 1700PPF 2.5 micromoles per Joule dimmability and uniformity with a price point below$1,000 overall, I'd move this light to near the top of my led grow light list for "best bang for your buck".
Please make sure you leave your comment below and be sure to share this post with your friends and follow me up in the top right-hand corner!
Related Posts

0 (0) Are "Organic" nutrients really better for your system or for your customers? Find out in this video from…
5 (8) Did you hear the story of a farmer who started growing strawberries? Yes? But, do you know he…
Please follow and like us: